Post Merger Integration Glossary
Welcome to your Post Merger Integration Knowledge Hub at The Burnie Group
What is Post-Merger Integration?
A post-merger integration or PMI is what happens following a merger or acquisition. PMIs are the complex process of combining and rearranging the merged businesses to find efficiencies and create synergies.
You can read more on the mergers and acquisitions process here.
Why do you need a Post Merger Integration plan?
There are 4 main reasons why Post Merger Integration plans are created. All these reasons address the major problems that a merger can face: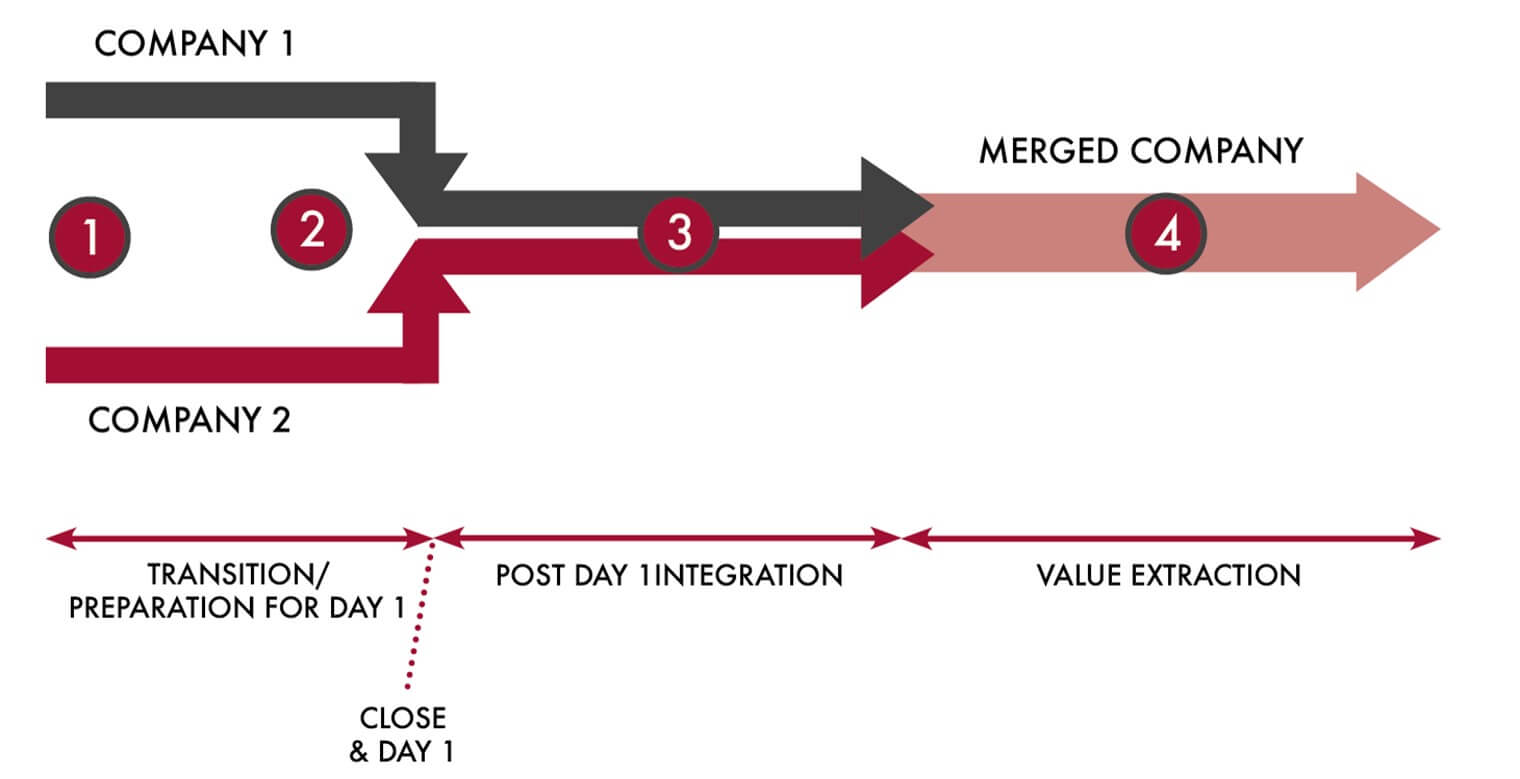 Ensure proper preparation before Day One: Shaping a successful merger starts the moment you make a deal. An integration plan determines all things that need to be completed prior to Day One and there are plenty of them – from communication and organizational structure for the merged company to concrete steps to prepare for Day One.
Create an hourly step-by-step plan for Day One: A Step-by-step / hourly plan for Day One is an integral part of a successful M&A plan. Day One is the first opportunity that employees of both companies have to meet and interact, and so it is crucial that all things happen as smoothly as possible.
Ensure the right course of action for all integration activities: A successful Post Merger Integration does not happen on its own –  it is a product of highly-detailed planning. There are many activities that need to be planned in advance of a merger, some of which may need both an interim and target state. Not having a proper Post Merger Integration plan poses many risks e.g. high attrition, IT incompatibility, brand dilution, conflicts of responsibility, etc.
Make sure that the value associated with a PMI is extracted: It is nearly impossible to extract any planned benefits from a merger or acquisition without careful planning. It does not matter if the benefits originate from platform consolidation, cross-selling, geographical/industry expansion, or improvement of cost position – all of these sources of value require careful planning.
Interested in Post Merger Integration support? We can help.
What makes a good PMI plan?
Building an actionable and comprehensive Post Merger Integration plan requires time and integration experience. Below is a post merger integration checklist you can use to get started:
CONTENT
PEOPLE
TECHNOLOGY
1. Depth:

Detailed enough to guide execution; several levels might be required

1. Team:

One central team managing the entire integration

1. Repository:

Centralized repository of all integration plans

2. Width:

Coverage of all functions within the organization

2. Roles:

Clear roles and responsibilities for all integration activities

2. Reporting:

On-demand reporting about integration progress

3. Clarity:

Tangible and concise description of integration activities

3. Involvement:

All relevant actors (if needed, from the acquired company) are to be involved

3. Ease of use:

All tools used for your PMI management should be easy and suit everybody
The most successful mergers link together effective upfront strategy with pre-merger planning and post-merger integration. These three components are critical for success:
A solid strategy that outlines where the company is going and how the merger or acquisition fits into that will ensure that the right targets are being set.
A strong pre-merger plan that looks at companies that have the right capabilities, builds trust among those involved and works through the deal effectively to begin the integration.
and finally, a post-merger integration plan that looks to capture as much value as possible as quickly as possible.
Interested in getting more guidance around your Post Merger Integration? The Burnie Group's specialists are happy to have a no-obligation discussion with you about the post-merger integration process and what makes mergers work.
EXAMPLE: Post Merger Integration plan
Below are some examples of integration plans and reports that are drafted at the correct level of detail.
Description
Should be drafted for each integration work stream
Has to include ALL relevant activities to ensure that nothing is left behind
Should be in depth
Description
Visual reporting that allows you to recognize issues easily
Generated in an automated way
Combines both quantitative and qualitative insights
Need a proper PMI plan for your integration? We can help.
We have designed execution plans for integrations from $5M to $1.5B.
What mistakes might you make in a Post Merger Integration plan?
There are several mistakes that can be made while developing a Post Merger Integration plan – below we've listed a few:
| | | |
| --- | --- | --- |
| CONTENT | PEOPLE | TECHNOLOGY |
| 1. Excluded areas: No area should be excluded from a PMI plan. Even if there are no changes to be made, this should simply be highlighted | 1. No central PMO team: Lack of dedicated central team to oversee and guide PMI | 1. De-centralized approach: Using various PMI plans that are not available centrally. |
| 2. Missing the target state: If there is no common understanding and alignment on the target state, your PMI is likely not to deliver on the promised benefits. | 2. Unclear roles: Even a clearly defined PMI plan with all associated activities will not be succesful without the clear assignment and tracking of responsibilities | 2. Too complex: A tool-heavy execution that employs complicated Project Management (PM) tools might be inefficient as you have to account for the learning curve of the PM tool |
| 3. Too high-level: Not designing a PMI plan and target state deep enough means that much of the work will need to happen later, requiring a higher effort to enable change. | 3. Lack of communication: Not sharing the target state and vision for your PMI, will leave staff un-motivated to enact change. People need a clear picture of the destination. | 3. Lack of Reporting: Lack of, or inaccurate reporting will limit your ability to follow the progress of the PMI project. |
Mergers and Acquisitions Resources
How our Post Merger Integrations services can help you:
Looking for more examples of Post Merger Integrations? Our PMI specialists have over 10 years of experience assisting clients in their M&A activities.
Please contact us for an initial discussion and assessment of your situation.
Planning an acquisition or integration? We can help.
Let us connect and discuss how we can support your project.