Our post-merger integration (PMI) practice specializes in guiding businesses through the mergers and acquisitions (M&A) process to ensure a smooth transition with minimal disruptions. We excel at helping clients exceed their integration goals and strategically position their newly integrated organization for future success. Our PMI consulting is particularly effective for integration projects ranging from $100 million to $1.5 billion.
Our post-merger integration framework
We support your mergers and acquisitions throughout the deal cycle with eleven integration consulting capabilities based on our post-merger integration framework.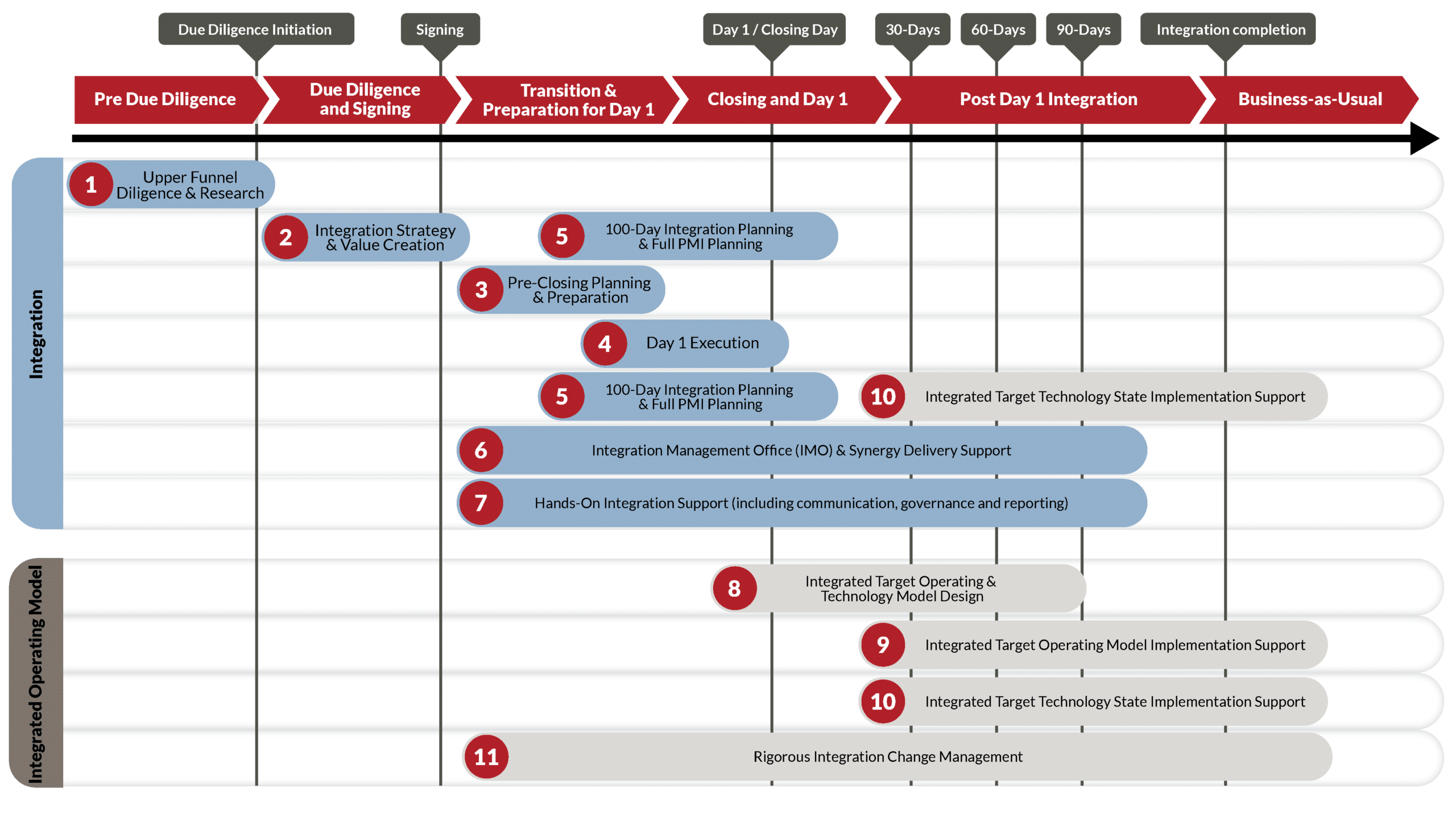 1. Upper funnel diligence and industry research
We offer upper funnel diligence and sector research as a focused project to understand a target industry, market, and an array of potential acquisitions. These projects lay the ground for a successful acquisition. Our work during this stage includes:
Upper funnel diligence
Researching industry segments
Exploring a sub-sector
Identifying core capabilities
Value creation planning
Scoping potential targets
2. Integration strategy and value creation
We help you develop an integration strategy for your merger or acquisition by clearly identifying the sources of value for the transaction and establishing a foundation to initiate the deal. Our work during this stage includes:
Identifying the significant sources of deal value
Developing a post-merger integration strategy
Developing a data request, such as data storage in a data room
Identifying core capabilities for each company involved in the integration
Developing financial deal assumptions and financial models
3. Pre-closing planning and preparation
Our pre-closing planning and preparation include the integration topics that must be addressed before Closing Day and Day 1, such as:
Developing the governance structure and approach for the integration
Setting up workstreams and teams to work through the integration
Designing a high-level integration target state
Developing integration project plans and charters by workstream
Setting up the transition service agreements (TSA)
Designing, preparing, and executing relevant communication
Establishing integration oversight and reporting
4. Day 1 execution
A successful Closing Day and Day 1 impact the success of the entire integration because it is the first impression of the integrated company. We support you on Closing Day and Day 1 with careful planning and execution, including:
Identifying all key stakeholders for Closing Day and Day 1
Developing a step-by-step run-of-play to orchestrate Day 1
Designing and delivering internal and external communication and welcome materials
Executing key Day 1 activities, including finance, legal, real estate, and IT
5. Post-merger integration 100-day planning and long-term planning
We help you develop a post-merger integration plan to lay a clear roadmap for your integrated company's first hundred days of operation. A thorough plan ensures that all your teams work towards the integrated target state. Our integration planning work includes:
Developing 30, 60, 90-day integration plans by workstream, including key milestones
Leveraging an existing database of integration activities to ensure that no essential items fall through the cracks
Identifying key decision points throughout the integration
Identifying and defining interdependence across various workstreams
Linking integration planning to the operating model and technology re-design topics
6. Integration management office and synergy delivery support
An integration management office (IMO) supports effective and efficient integrations. It is the main point of contact for all integration-related topics, supporting the entire post-merger integration process and providing status updates about integration and value delivery progress. We support your IMO by:
Facilitating all integration-related touchpoints, capturing and helping to resolve integration questions
Providing hands-on project management support for all integration workstreams
Keeping post-merger integration processes on track
Capturing and delivering integration status reports to senior leadership
Supporting risk management associated with integration
Maintaining and updating integration costs and benefits
Tracking and reporting value captured throughout the integration
7. Hands-on integration support
We offer post-merger integration process support for all integration workstreams by embedding our experienced M&A consultants into your integration teams. Our integration support work includes:
Embedding additional resources into integration workstreams to support integration activities
Problem solving integration issues suggest possible solutions
Providing expert guidance to the workstreams and helping them execute their plans
Driving cross-workstream communication and collaboration
8. Target operating model design
Designing a target operating model for the integrated organization positions the new unified business for success. Our work during this process involves streamlining the organization, integrating processes, and adopting best practices. Designing the operating model includes:
Understanding the current operating model, including existing gaps and best practices
Aligning on the design principles for an integrated operating model
Planning the target operating model design across all dimensions: people, processes, technology, governance, customer experience, and more
Developing an implementation roadmap by workstream for an integrated target operating model
An integrated organization might not require a new target operating model if an acquired company folds into existing structures.
9. Target operating model implementation support
Implementing changes post-Day 1 involves target operating model implementation across all workstreams. We work with you to design your integrated company's interim and target operating model states with our unique visual methodology. The model reflects customer, people, technology and tools, process, and governance dimensions. This stage includes:
Re-aligning the integrated company's organizational structure
Streamlining and optimizing customer-facing and back-office business and support processes
Adjusting the integrated company's physical footprint
Finetuning the company's offering, price, and sales approach
Aligning technology across all IT towers
10. IT integration support
Our IT integration support spans all IT towers: applications, infrastructure, end-user computing, IT security, and IT governance. Our IT support includes:
Consolidating end-user computing topics, including all devices, IT help desk support, IT in-field support, network, and IT asset management
Consolidating and optimizing infrastructure, including data centers, server and mainframe landscape, disaster recovery, infrastructure backups, and redundancy
Aligning support applications, including CRM, HRIS, ERP, GL)
Aligning core applications
Streamlining IT support applications
Streamlining IT governance
Consolidating end-user computing topics, including all devices, IT help desk support, IT in-field support, network
11. Post-merger integration change management
Integrations typically involve significant changes, especially for the people in the acquired organization. We work with you to ensure your leaders plan and drive changes throughout the integrated organization. Our PMI change management work includes:
Assessing culture and change capabilities across both organizations
Developing change management plans
Identifying leaders to drive the change along internal change agents
Communicating and cascading the change throughout the organization
Delivering necessary training and coaching across the organization
Establishing essential habits and practices to anchor the change
Monitoring and visualizing the change progress
Post-merger integration playbook
Some of our clients are in an ongoing acquisition and integration mode, especially in the private equity space. We support clients who face recurring acquisitions by developing a post-merger integration playbook for their organization. We validate our PMI playbooks with our clients in real integrations and align the structure to our post-merger integration framework. A typical merger integration playbook includes:
Various integration scenarios for different integration types (e.g. size, type, geography, etc.)
Integration governance
Typical post merger integration 100 day plan (including alternative options)
Integration planning by workstream (e.g. Communication, Sales & Marketing, Product, Legal, Human Resources, Finance, Operations, Technology, and others)
Operating model re-design approach for an integrated company
Integration communication samples
PMI change management
Integration risk management
Key artifacts
Integrating a carve-out
We support our clients through the entire carve-out and divestiture process, both on the integration and selling sides. Integrating a carve-out into an existing operating model involves developing and implementing a Transitional Service Agreement (TSA). Our PMI integration activities and milestones database covers various M&A carve-out situations, laying out clear steps for successful execution.
Integrating an M&A roll-up
M&A roll-ups or simple integrations are less complex than full-fledged post-merger integrations. However, they require quick and effective integration. Our rapid integration program supports the most essential integration elements, focusing on the pre-closing and 90-day post-closing phases. After 90 days, all the main operating model elements of your acquired or rolled-up entity are integrated in your existing operating model.
Our post-merger integration differentiators

Our expert team
Our dedicated M&A consultants have extensive PMI experience from top consulting firms. Our team can work with you across multiple integrations instead of switching consultants between engagements. In addition to planning and steering, we roll up our sleeves and get involved with execution tasks.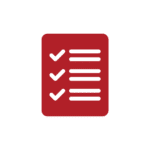 Database of integration activities
Our database of 1,500+ integration activities enables quick integration planning on a high level and in detail. Select the milestones and activities relevant to your deal from our library that spans industries and functions.

Robust PMI support tools
Our proprietary tools steer your PMI and track synergies, including dynamic integration worklists, integration reporting, and more. Our proven tools integrate with the tools your organization uses.

Integrated target operating model design
Design your integrated company's interim and target operating model states with our unique visual methodology. The model reflects customer, people, technology and tools, process, and
governance dimensions.
Hundreds of sample communication plans and templates
Save time and effort with our proven communication templates that include integration principles, overarching integration statements, CEO Day 1 announcements, and employee FAQs.

Technology integration support
Integrate your organization's technology with our highly effective and collaborative technology integration planning methodology. Our methodology spans all IT towers, including applications, data, infrastructure, end-user computing, IT security, and IT governance.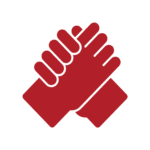 Hands-on change management support
Our integration support focuses on numerous change management principles to accelerate an integration and guarantee its success. We support your integration through day-to-day involvement and coaching and training of your leaders and teams to ensure a smooth integration.
Client testimonials
"Burnie Group was very collaborative. They integrated the project lead's input and adapted very well to various stakeholder leads. The team provided thought leadership throughout the engagement. The engagement deliverables were practical and relevant, with excellent augmentation to our executive team."
"My experience with Burnie Group has been truly exceptional.  What differentiates David and his team is their ability and willingness to span from the strategic to execution - in particular, the latter.  Burnie Group became indoctrinated in our business, understood our organization dynamics, and was able to both guide the strategic conversation while bringing executional acumen and plugging key gaps as we went through these integrations."
"In the past 4 or 5 integrations, we have not seen a comms/training plan like what you are doing. I can totally see the value in doing this."