Our post-merger integration (PMI) practice works with businesses to ensure that organizations are carefully integrated in a seamless process focused on minimizing disruption and maximizing positive impact. By coordinating all pre- and post-merger activities, monitoring progress, and creating accountability for capturing value, we help you deliver all expected integration benefits and position your organization for future success.
Burnie Group's post-merger integration practice

Burnie Group has extensive experience supporting its clients across three integration themes:
Strategy
Set up a PMI strategy extension, savings, new product and service opportunities
Define the PMI focus and draft an ideal approach (e.g. a merger of equals, take-over, low-touch ownership)
Identify key levers to unlock PMI value (e.g. organizational changes, increased efficiencies, know-how)
Steering and support
Set up a strategic project management office (PMO) to support senior management in PMI initiation and execution
Work together across all streams to ensure transparency in the PMI progress
Highlight potential risks and raise key issues
Lay out a framework for value extraction
Enable change management throughout the PMI
Delivery and execution
Deliver the PMI streams, including technology, processes, shared services, detailed governance, and geographical footprint
Work side-by-side with client teams to define the target state for each PMI stream using best practices
Support PMI streams in unlocking PMI value
Support for the five steps of the integration cycle
Our integration consultants have experience in supporting various steps of the integration process, including: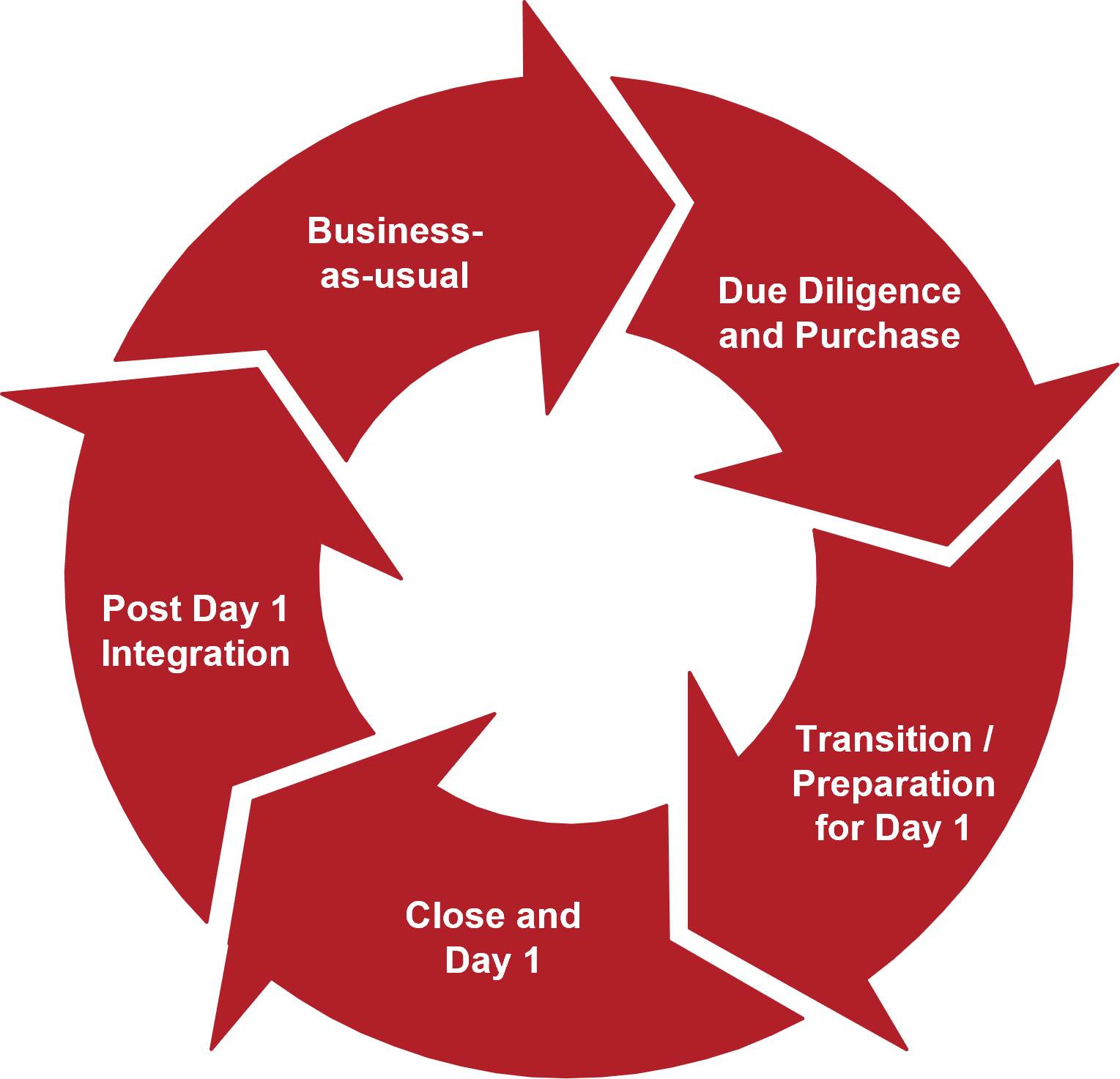 Step 1: Due diligence and purchase
Develop an integration strategy
Identify major sources of deal value,
Develop a data request including data storage in a data room
Identify core capabilities for each company involved in the integration
Develop financial deal assumptions and financial models
Step 2: Transition & Preparation for Day 1
Develop the governance structure for the integration,
Set up workstreams and teams to work through the integration
Design an integration target state
Develop integration project plans and charters by workstream
Set up the Transition Service Agreements (TSA)
Step 3: Closing and Day 1
Develop the Day 1 run-of-play
Design internal and external communication and welcome materials
Execute key Day 1 activities (e.g. finance, legal, real estate, IT)
Step 4: Post-Day 1 Integration
Post-Day 1 is the most work-heavy stage of an integration. This stage includes detailed integration plans by workstream, organizational redesign and alignment, delivery of target states by workstream, issue management and integration progress reporting, extraction and tracking of benefits/deal value.
Step 5: Transition into Business-as-Usual
Encompasses such activities as process optimization,
Develop an efficient integrated operating model
Streamline the technology
Read about how to create a post-merger integration checklist for each stage of your integration.
READ OUR ARTICLE
Post-merger integration timeline
While no two integrations are the same, they can have similar traits. A common integration timeline involves the following phases:
Integration: Activities to ensure success of an integration, from integration planning to full integration.
Target operating model: Re-alignment of the existing operating model under consideration of operations in an acquired company. The target operating model design might not be required if an acquired company is folded into existing structures.

Planning
We our integration teams within your organization, working closely with your people (virtually or physically, as required) to define an overarching PMI strategy and governance. Strategy and governance set the direction and approach of the PMI and establish the appropriate oversight and reporting cadence needed to ensure a successful transition and integration.
Once the strategy and governance are determined, we define the integration workstreams and plan the delivery and execution of the integration from the lead-up to Day 1, to Days 30, 60, 90 and beyond. Leveraging our proprietary database of over 1,000 integration activities, we work with all workstreams to capture the required steps for successful integration. We plan out necessary milestones to ensure optimal sequencing and identifying dependencies and linkages between workstreams.
Implementation
After planning comes implementation. We provide expert guidance to the workstreams, helping them execute their plans while tracking and measuring individual and overall progress, synergy realization, and other important integration KPIs to share with your organization's implementation governance committee and executives.
It is important that PMIs run at the same speed across the organization. Cross-workstream communication and collaboration allow for early identification of inter-dependencies to establish a critical path, meaning no workstreams or milestones are delayed. Throughout the implementation, we facilitate check-point workshops and off-sites to ensure robust workstream planning and cross-workstream communication. These workshops also provide a good opportunity for new colleagues to meet and network between the organizations and functional areas.
Target operating model
Integrations offer a good opportunity to undertake an operating model refresh. The organization is changing, integrating processes, and adopting best practices across the board. Simultaneously looking at and designing the new combined organization's target operating model allows the organization to complete a total revamp all at once, positioning the new unified business for success.
For more on target operating model design, please visit our practice area page.
Our post-merger integration capabilities
1. Post-merger integration process library
Our PMI consulting team uses a proprietary PMI process library encompassing over 1,000 possible integration activities and processes. We begin with an extensive menu of existing and proven integration activities, which we tailor to your integration, speeding the development of integration plans for each of your workstreams.
2. Post-merger integration playbook
We build PMI playbooks for clients who face recurring acquisitions across multiple industries. A typical acquisition playbook includes:
Various integration scenarios and criteria
Integration types
PMI governance
Integration plans by workstream (e.g. Communication, Sales & Marketing, Product, Legal, Human
Resources, Finance, Operations, Technology, and others)
Integration risk management
Integration communication samples
PMI change management
Key artifacts
3. Post-merger integration tools
Many classic tools, such as Microsoft Project, are too complex for the quick pace of an integration. Our proprietary integration tools include dynamic integration worklists, integration reporting, and more. We introduce these tools into your integration, coach you, and leave you with them once our work is complete. The tools have easy-to-use visual dashboards by a wide range of audiences, from workstream owners to integration steering committees.
4. Post-merger integration project plan
Developing a clear integration plan is an essential part of each post-merger integration and our team uses a proprietary technique, interactive integration roadmapping, to develop a roadmap with key questions to be resolved. This roadmap communicates key integration activities and timelines.
 5. Post-merger integration strategy design
Our team leverages an integration target operating model design to identify key changes in how companies will operate after the merger. This highly visual approach is developed for each function including sales and marketing, finance, HR and operations.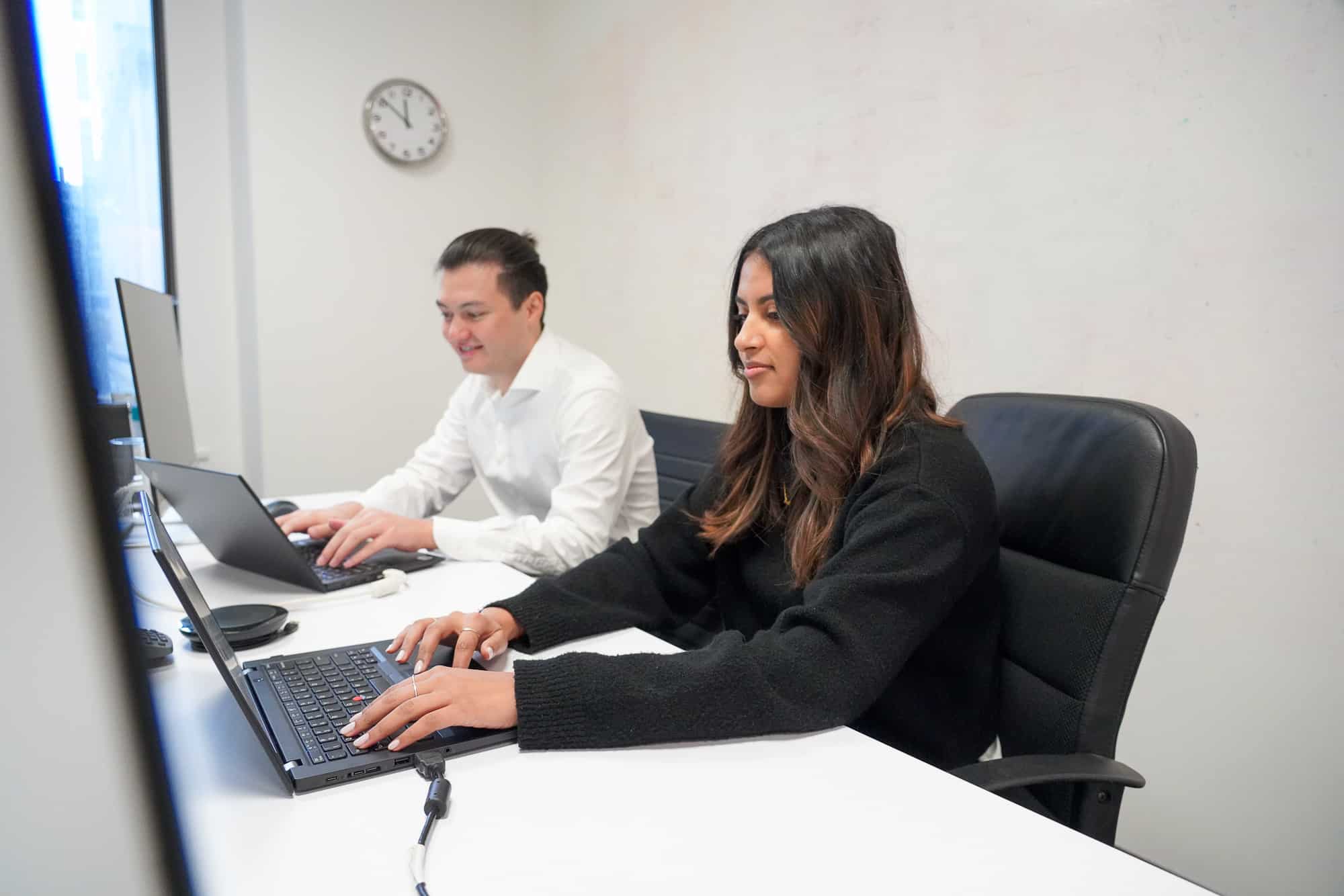 How our post-merger integration capabilities are different
A flexible integration team tailored to your organization's unique needs. Whether it's a full team for the entire integration or a light-support team for only the pre-planning and first 30 days, we can work with you to create a support model that meets your needs.
In-depth post-merger integration knowledge, including a proprietary integration database and a library of tools to support a successful integration.
PMI experience across a range of industries, transaction types and sizes.
Consistent project teams for recurring engagements: Mergers and acquisitions (M&A) are rarely conducted in isolation. Burnie Group prides itself on offering stable teams of consultants to work with you across multiple integrations as they occur.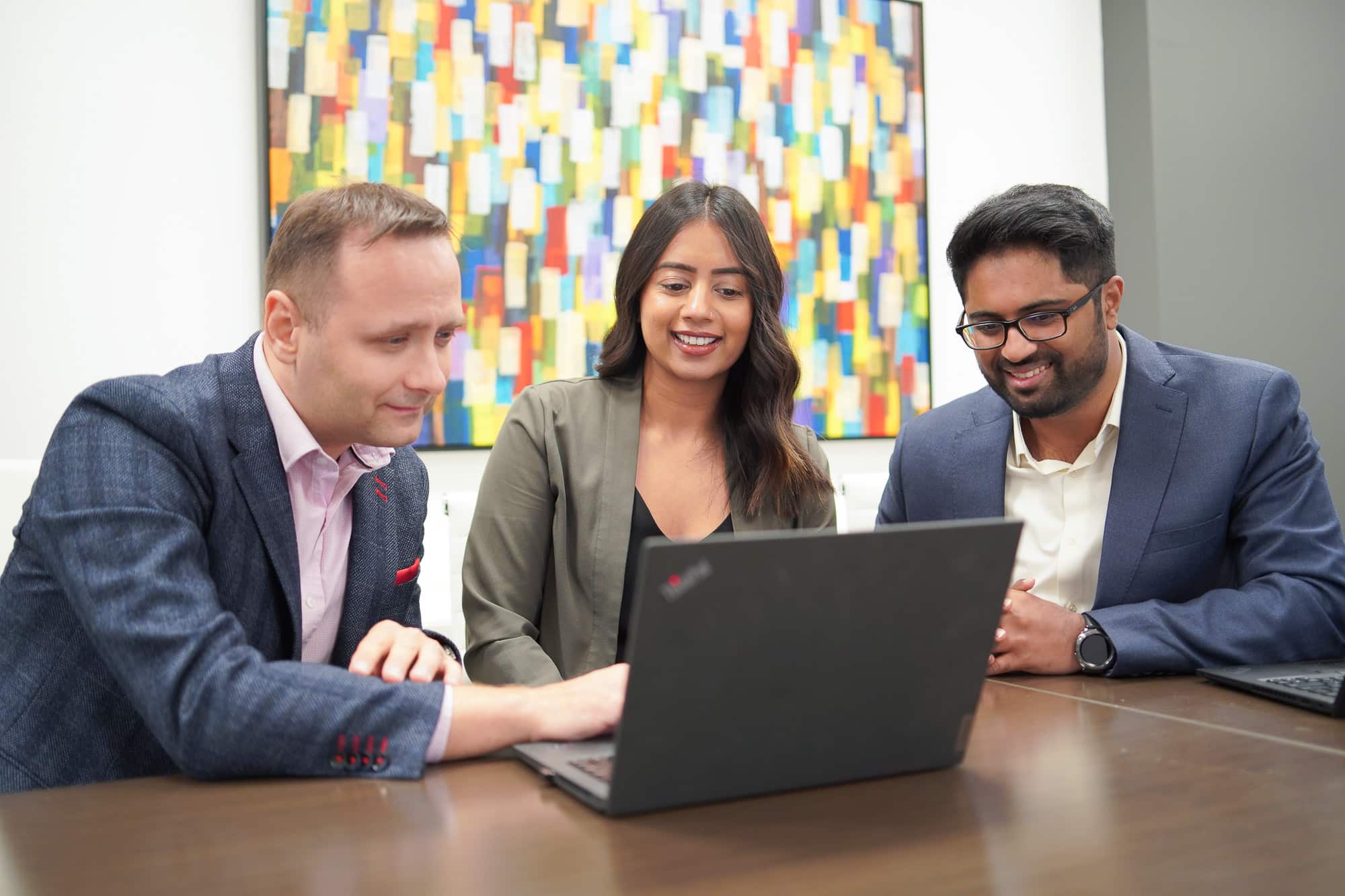 We understand what a successful integration requires
Burnie Group's extensive experience in post-merger integration across a range of industries enabled us to develop a proprietary integration database and a library of the standardized tools, reports, and processes required for a successful merger. As a result, our integration database and library of tools provide an immediate head start to any integration in industries ranging from financial services and insurance to retail and telecommunications.
Our insights on post-merger integrations
Read what our experts have to say about integrations, mergers and acquisitions.
Client testimonials
"My experience with Burnie Group has been truly exceptional.  What differentiates David and his team is their ability and willingness to span from the strategic to execution - in particular, the latter.  Burnie Group became indoctrinated in our business, understood our organization dynamics, and was able to both guide the strategic conversation while bringing executional acumen and plugging key gaps as we went through these integrations."
"In all the past integrations here, we've never seen such a push for clear milestones. This has been super helpful."
"In the past 4 or 5 integrations, we have not seen a comms/training plan like what you are doing. I can totally see the value in doing this."