Whether you are launching a new venture, updating your strategy, or facing persistent performance challenges, Burnie Group's target operating model capabilities can help translate your organization's vision into a clear and actionable blueprint for operations. Leveraging our comprehensive target operating model (TOM) framework, we can help you cut through complexity and systematically design a transformational operating model that efficiently and effectively delivers value to your customers.
Our target operating model framework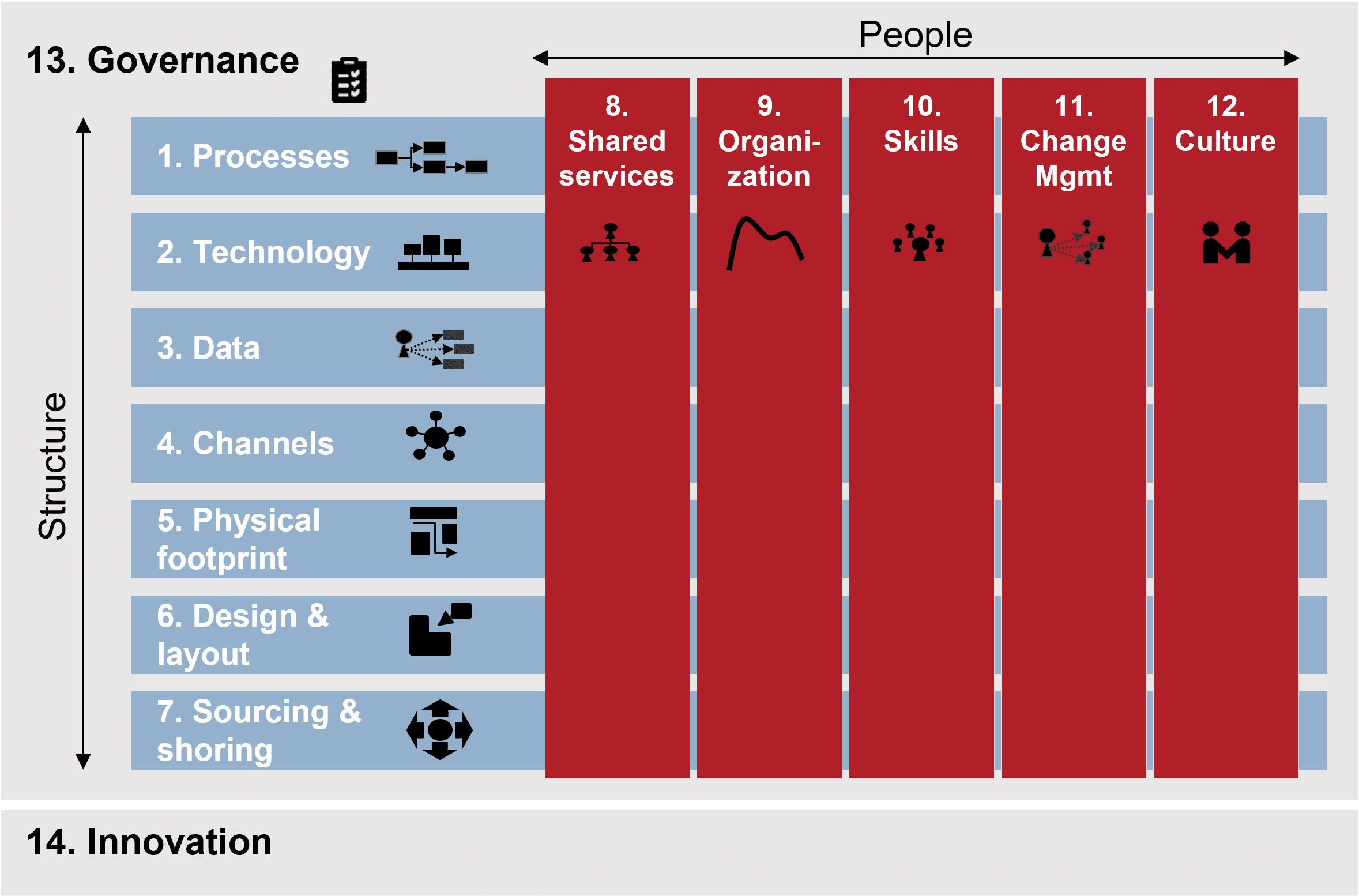 We leverage a robust framework to ensure all elements of your business are considered during our TOM design work. This includes:
Process: Activities your organization completes to create and deliver value to each of your customer segments
Technology: IT applications, infrastructure, and hardware required to support each process
Data: Storage, access, and analysis of business information needed for performance management, insight, and decision making
Channels: Mechanisms used to communicate and reach your customer segments
Physical footprint: Locations where your business operates, and the assets (PP&E) required to support the work
Design & layout: Physical design of your facilities for optimal efficiency
Sourcing & shoring: Supplier, vendor, and distributer mix needed to operate effectively
Shared services: Key functions (e.g. HR, IT, Finance) to centrally support your business units
Organization: People needed to complete the work and how they are structured
Skills: Critical capabilities your business needs to succeed
Change management: Framework and approach for leading your organization through transformational initiatives
Culture: Beliefs, values, and attitudes that shape the employee experience
Governance: Processes and mechanisms for monitoring and controlling performance across your organization
Innovation: Structures to promote idea generation and the development of new products and services
Our target operating model methodology


Our projects are scoped and structured based on your specific needs. As a baseline, we follow a proven, phased approach that ensures our consultants are equipped to enter your organization and quickly get up to speed on the specific challenges, root causes, and potential solutions for meaningful change. While no two projects are the same, many follow a similarly structured approach: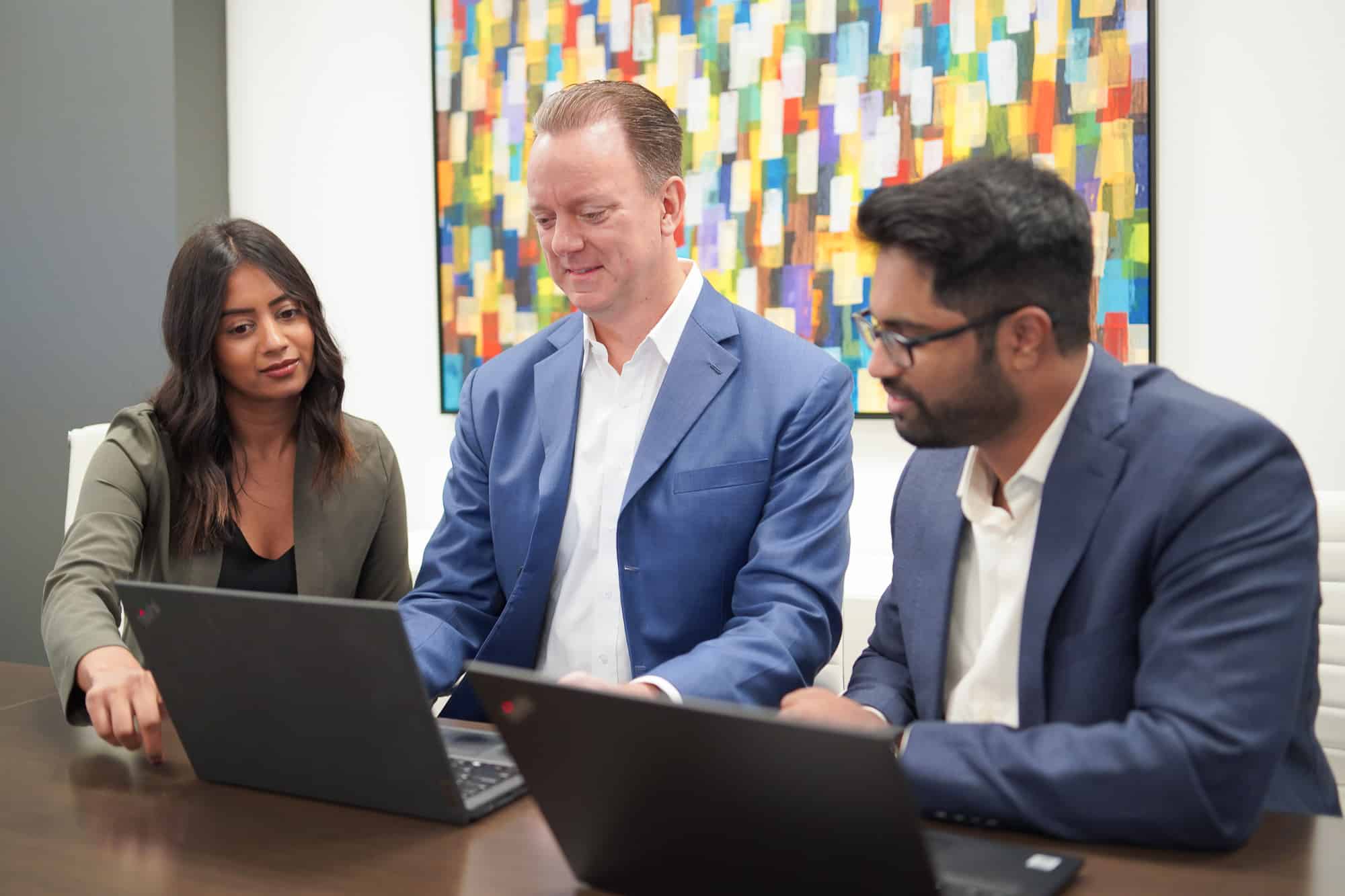 Current state assessment: This is our opportunity to work closely with you to learn about your organization and compile the necessary fact base to understand your current priorities and guide future state design. This phase typically lasts from 3-6 weeks, depending on the overall project scope, complexity, and starting point. Our work during this time involves:
Understanding your business, including value proposition, strategic objectives, customer segments, geographies, channels, partnerships etc.
Assessing your current operating model against the dimensions of our operating model framework and documenting known pain points and opportunities
Interviewing and surveying leadership and key stakeholders
Reviewing and assessing available documentation (e.g., corporate and growth strategy, current project portfolio and estimated ROI, organization charts and reporting structures, process maps, etc.)
Facilitating a "mirror walk" workshop to review key findings and align on top opportunities for improvement
Developing guiding principles for the target operating model design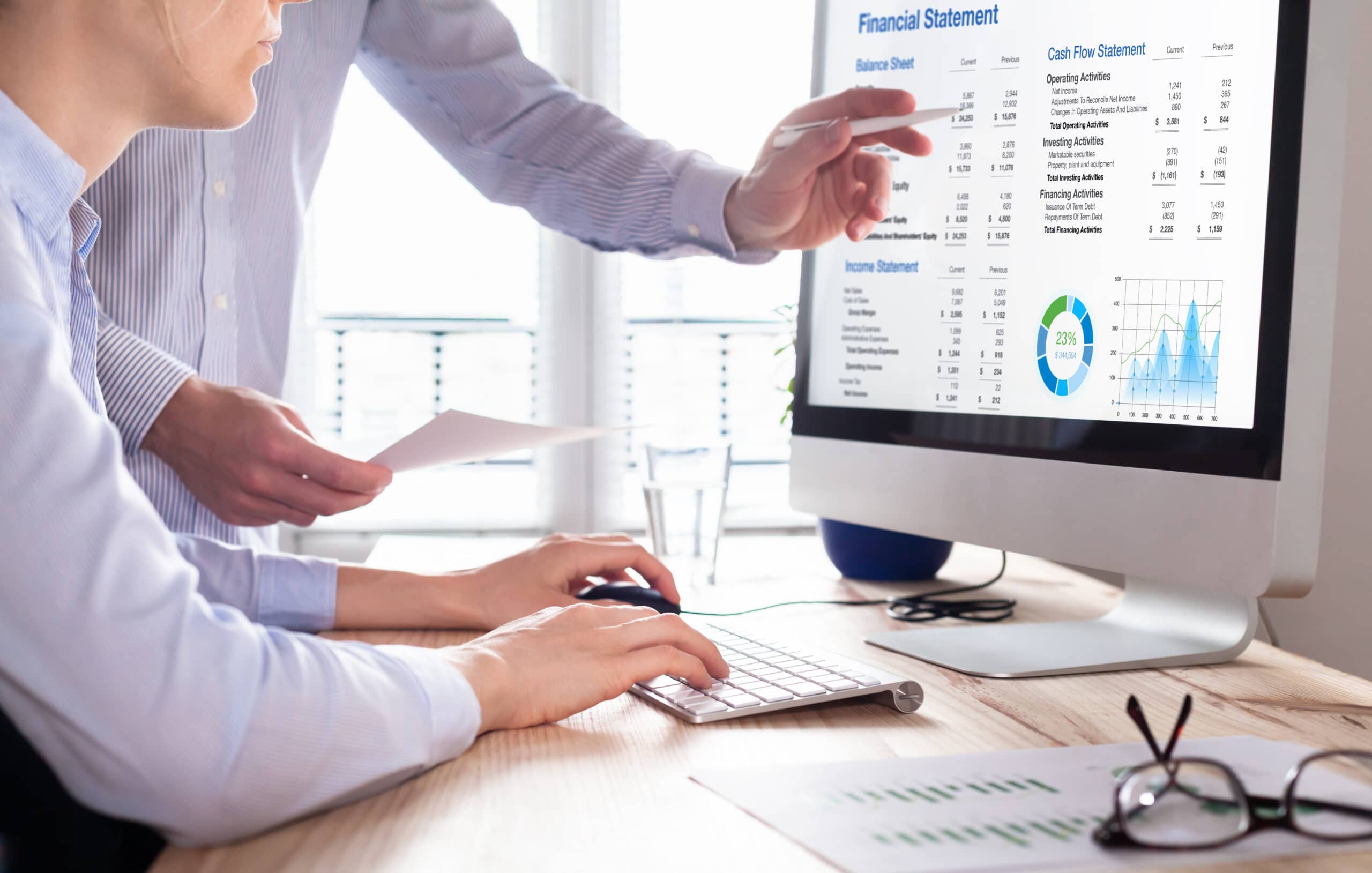 Target operating model design: Following our current state assessment, we will deep dive into building out the target state operating model. The scope and duration of this phase are determined by your specific needs and can range anywhere from 3-4 weeks to multiple months. Our work during this time may include elements such as:
Mapping process improvement opportunities across the value chain
Developing the target state organizational structure
Laying out the high-level technology landscape of IT applications and supporting infrastructure
Creating a 'skills inventory' of required capabilities and identifying key gaps
Determining the optimal channel mix to reach all customer segments
Designing the target state locations footprint and facilities layout
Defining decision rights across the organization (e.g., RACI matrix: responsible, accountable, consulted, and informed)
Aligning on the optimal partner matrix for outsourcing
Developing a balanced scorecard to measure and manage performance
Building a financial model to quantify required investments and the potential impact of the target state design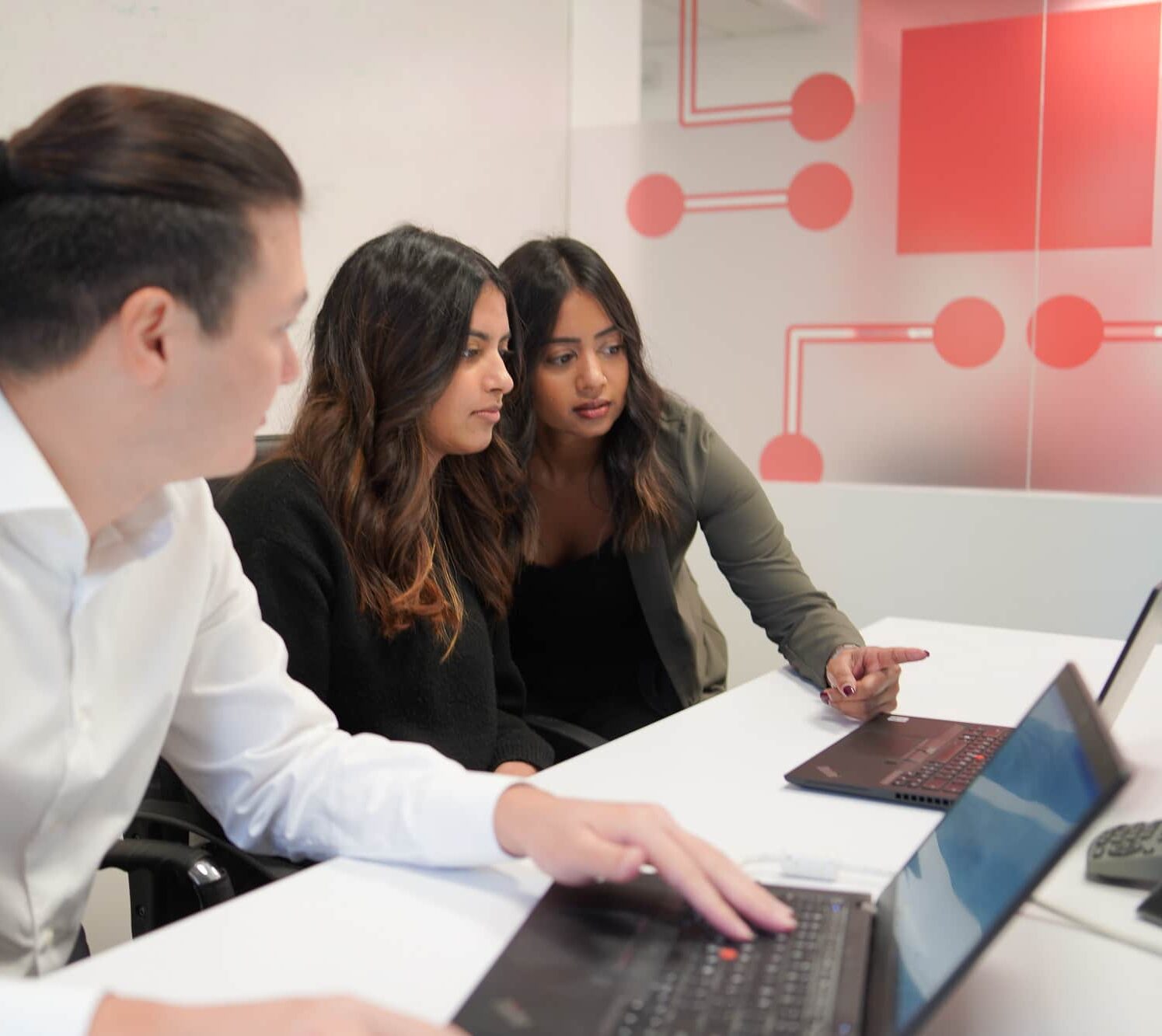 Roadmap: Once we develop a blueprint for your solution, we will work with you to prepare a path from the current to the future state. This phase typically lasts 1-3 weeks and involves:
Defining clear workstreams, milestones, timelines, and accountability to get to target state
Setting up reporting and tracking against milestones and setting the cadence for project execution
Identifying key project risks, potential impact, and mitigation options
Following the end of our engagement, you will be ready to begin moving ahead with solution implementation. For this, many of our clients choose to continue working with us to leverage our expertise in project planning, change management, and project governance. We will work with you to determine the level of support required, and if needed, define a separate project scope for solution implementation.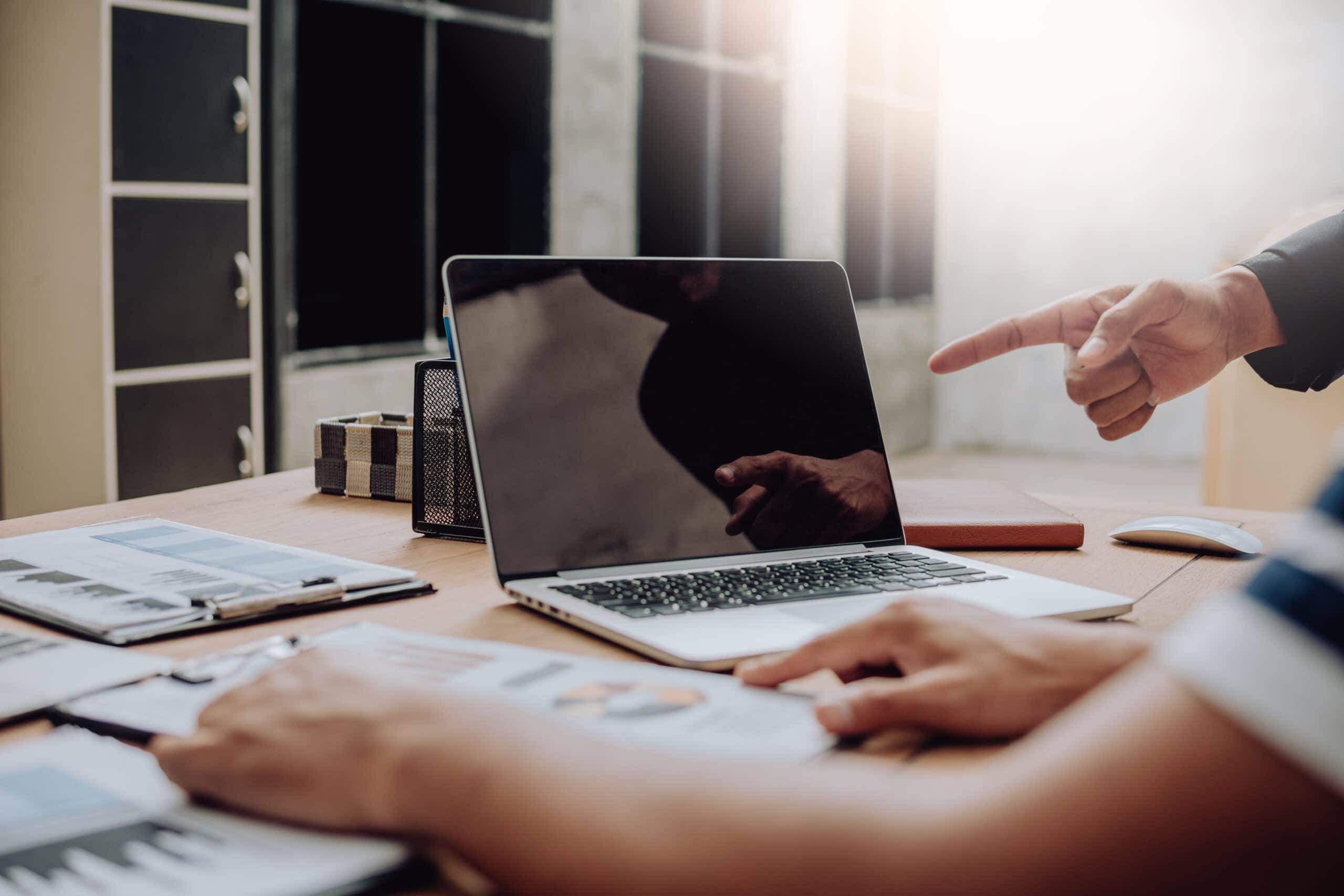 Implementation: Our consultants bring many years of industry expertise and a track record of delivering and sustaining transformational change with our clients. We will work with you to define the scope of support required to make your implementation a success. This may include:
Project management: Managing the mechanics of implementation delivery, including initiation & timeline planning, day-to-day execution, stakeholder management, budgeting, risk management, quality assurance, status reporting, and closure.
Change management planning: Leveraging our change management framework to develop a comprehensive and structured plan to help manage your people through organizational change.
Problem solving support: Additional intellectual horsepower to address and breakthrough roadblocks encountered throughout the implementation lifecycle.
Training and capability building: Upskilling staff to ensure the smooth transition and sustainment of the implemented solution.
How Burnie Group creates value
Organizations that work with us for their target operating models achieve:
Decreases in operational costs of 10-15% (up to 80% with automation)
Improved customer and employee experience
Increased competitive advantage
Reduced operational complexity

More streamlined processes
Faster throughput
Higher quality results