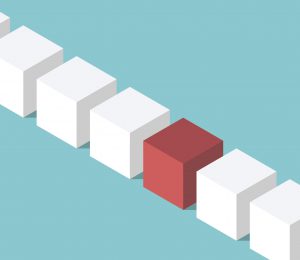 Blockchain captured attention and made headlines for much of 2017. The trend remains strong in 2018, with entrepreneurs, governments, and banks looking to effectively and efficiently harness this emerging technology. Throughout it all, leaders want to know two things:
1. Why is blockchain getting so much attention?
2. Why should they care?
Blockchain is a highly reliable, encrypted transaction record that cannot be changed. As a distributed database, manages coordinated and reliable consensus over a record of events. This is particularly valuable if participants have different motives or interests. Early adopters understand it's these characteristics make blockchain a game changer. Here's how these four industries can take advantage of it and how stakeholders can benefit.
1. Insurance 
Mobile computing and the Internet of Things (IoT) are already changing how insurers interact with customers and bring in new offerings, and are lowering the barrier to entry for new and innovative entrants.
Blockchain is laying the path to some of the insurance industry's largest disruptions. By getting ahead of this technology, insurers can overcome existing pain points, and improve operations in:
– Fraud detection and risk prevention
– Claims prevention and management
– Product development / Underwriting
– New distribution and payment models
– Reinsurance
Read 3 Blockchain use cases changing the future of insurance to find out more about how the insurance industry can use blockchain.
2. Finance
While finance has received the most attention within the blockchain ecosystem, many believe 2018 will see institutional capital injected at scale to take development beyond proof-of-concepts.
Blockchain stands ready to transform high volume, laggard and costly processes. It is also poised to impact intermediaries such as clearinghouses and credit card payment processors. Some of its biggest opportunities in finance are in creating smart contracts and facilitating easier cross-border payments, as well as:
– Trade platforms & processing:

– Lower cost and operational risk
– faster turn-around

– Crossborder payments:

– Lower cost and fees
– Increased security and speed

– KYC / AML management

– Reduced duplicative efforts in on-boarding customers
– Improved transaction monitoring

– Identity
– Fraud reduction
– Payments
3. Government
Governments have generally been slow to prioritize blockchain's potential. At present, Canada is one of more than a dozen countries that are examining its uses and running pilots. The public sector should examine the benefits of security, efficiency, and speed.
Potential benefits to putting a solution in place include, increased and eased compliance, improved data quality, greater transparency, and optimized processes.  Blockchain offers the following opportunities to governments and public sector organizations:
– Land registration
– License and registry processes
– Voting
– Identity management
4. Healthcare
Blockchain's features offer innumerable benefits in healthcare. It can improve accessibility and accuracy to patient data, open doors to better and faster treatment, and improve patient safety. It can also create a common, secure health information database that medical staff could access seamlessly. With less time spent on administrative tasks, more time could be allocated to patient care. Healthcare can evolve to be more patient-centric, and allow individuals to control access levels to information.
In transforming healthcare, blockchain technology can also address issues, including:
– Medical Data Management
– Drug Development and Supply Chain Integrity
– Claims and Billing Management
– Improve trust in scientific research
– Medical Research
– Data Security
– research results to facilitate new drug and treatment therapies for disease
Contact us if you have questions about how blockchain could impact your industry. The Burnie Group will help you to set the right strategy and build the right foundation, to help you become a pioneer in this emerging technology.
---

---
 By: Madison Wright, Senior Business Analyst