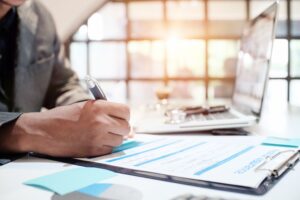 New automation technologies and evolving customer expectations are driving rapid advancements across many industries. However, the insurance industry has traditionally been slower to benefit from these breakthroughs. Many companies still rely on manual processes at the expense of customers who wait for prolonged periods while employees work through complex documentation.
Traditional robotic process automation (RPA) and optical character recognition (OCR) have had limited success in the insurance sector. By contrast, intelligent automation (IA) can show the industry a path forward. IA can transform how these organizations operate to meet increasing demands from customers, enabling them to compete more effectively. While many of these tools are new to insurance, they can help scale operations and create resiliency to catastrophic events. Through the combination of technologies including digitization, RPA, artificial intelligence, and machine learning (ML), IA can solve complex issues within insurance through the end-to-end automation of not only a single process but of an entire business function.
Why the insurance industry has been slow to adopt automation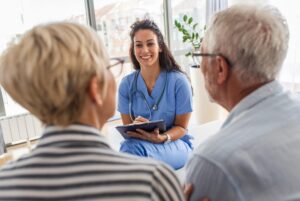 Multiple barriers exist to maximizing the automation potential in the insurance industry. Historically, RPA has been instrumental in automating already digitized, repetitive, standardized, rules-driven, high-volume processes. But what happens when these prerequisites for automation are not met? Due to the nature of the insurance industry and its underlying processes, these constraints can significantly limit the scope of what can be automated. Issues like input data variability, the complexity of the stakeholder interactions, and nuanced decision-making are all hallmarks of the insurance industry that have historically made RPA adoption complex with mixed results.
One of the underlying complexities with process automation is that data needed for most insurance processes can exist in various formats: structured, unstructured, and semi-structured. Furthermore, this data is typically shared across the insurance ecosystem through multiple channels, such as emails, PDF attachments, online portals, contact centre calls, internal phone calls, and faxes. Each of these media requires that the data be appropriately received, contextualized and digitized with an outstanding degree of accuracy before one can even think about automation. An additional complication: insurance documents often include handwritten information, most frequently in first notices of loss (FNOL), changes of name or address, and beneficiary documents. Insurance providers and processing organizations often extract data from highly unstructured requests sent by email, unstructured policy, and employee benefits documents, such as dental, income protection, long- and short-term disability and medical documents. One may also need to validate and obtain data from physical reference manuals and binders or slips, which can be lengthy and use inconsistent language to describe the same concept.
Many third parties are involved in the end-to-end insurance lifecycle. What sounds like a simple task of processing an insurance claim can include interactions between the insured party, insurer, broker, claim administrator and adjuster (both of whom can be outsourced or in-house), medical providers, auto shops, and other specialized professionals. Each stakeholder adds complexity to what can and cannot be automated. For example, one party can have a rule against anything that resembles screen-scraping, while another may be uncomfortable with the concept of "emailing a robot." Automation with a low success rate and frequent need for manual intervention can easily thwart an automation program's potential. Each of these factors, and several others, need to be considered before attempting to use RPA in the insurance space.
Another barrier to traditional automation is that many insurance processes need to understand the context and the nuance of a given request. Also, working with incomplete information is often hard to avoid. Because RPA works best with processes with clear and unambiguous "IF-THEN" rules, designing them to fit the often-changing environment of the insurance sphere can often seem insurmountable and frequently results in inaction.
How the insurance industry can benefit from advances in automation
Despite the problems mentioned above, innovations in the automation space enable the insurance industry to benefit from automation now more than ever before. New intelligent automation approaches that combine the most recent advances in digitization, RPA, and AI/ML have numerous successful use cases.
We believe that there are several candidates for intelligent automation that insurers could take advantage of:
New Business Quote Intake: As brokers submit risks for quotes, typically, each broker will submit their own form, often with incomplete information. Intelligent automation can take whatever information is provided, in any format, upload it into the systems, and triage the risk to be quoted by the appropriate underwriter. This is particularly salient for commercial insurers who can use high-cost resources such as underwriters to input data, even before they have decided if they want to quote the risk.
Physician and medical assessments: In a life insurance context, insurers can receive medical information from healthcare professionals in many different formats. Intelligent automation can take this information, digest it, and ensure it is appropriately relayed to the underwriting team. This enables the team to make pricing decisions quickly and effectively. Similarly, the same approach can be used on claims decisions where medical personnel make assessments of claimants.
Payments processing: Insurers are responsible for releasing funds to claimants and service providers. They will typically need invoices and receipts to process payments. Invoice and receipt processing can be done through both traditional OCR and ML-based digitization products.
TFNOL: As insurers get more sophisticated with their claims intake, they can begin to make decisions where write-offs are required the moment that a claim is made. This prevents a lengthy back-and-forth between the claimant and the insurer and resolves the auto claims on the spot.
Real-time auto damage assessment and repair estimate: In an auto insurance context, loss or damage estimation is a time-consuming iterative process that relies on extensively trained estimators. Some AI-powered offerings, like Tractable, allow the assessment of car damage and expedites claims and settlements in real time .
Disaster analysis appraisal: AI can work with satellite data and analyze and accelerate the appraisal process. Tractable solutions capture photos of the damage and predict repair costs.
General data insights, prediction for classification and evaluation: Commercial insurance can benefit significantly from targeted AI/ML-based tools that deliver predictive data to insurance carriers to better classify and evaluate commercial businesses.
Insurance Contact Centre support: Conversational AI has gained popularity across industries, and insurance should be no exception. Chatbots today are widely used across industries, in many cases taking care of 50% of online client conversations, reducing operational costs and increasing end-customer satisfaction.
How claims intake can be automated through intelligent automation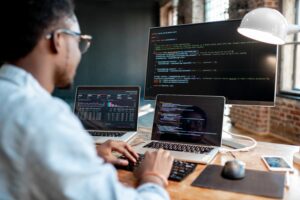 Let us focus our attention on one specific example that has been automated through an intelligent automation approach: claims intake or first notice of loss (FNOL). A couple of years ago, this type of process would be considered a very poor candidate for RPA. The claims intake process is so difficult to automate because the claims intake is the first time anyone other than the claimant knows that an insurance claim is required. If a given insurer forwards the submitted claim to a third party, that party often deals with astronomical complexities. Namely, incoming information can come in from a myriad of insurers. Each insurer could send the claim information in one of ten, twenty or more templates attached to an email, and often in a semi- or fully unstructured manner.
These inputs would make work with traditional OCR and RPA extremely time-consuming and yield a very low success rate. OCR requires in-depth custom development for each template variation for each insurer, which would lead to thousands of OCR templates that need to be configured. If the information is not always found in the same field or a given line of a template, the information cannot be processed, resulting in manual effort and workarounds. Unstructured email input is virtually impossible to automate with RPA, short of searching specific keywords or hoping that the email sender uses consistent email titles and wording to describe a concept. The success rate of both approaches is notoriously low.
Although the claims intake process is a specific example within the insurance sector, it represents pervasive issues across insurers, brokers, and BPOs. High-volume activities use a significant amount of administrators' time. In this example, setting up a claim in an internal system can take 10-20 minutes of manual effort. What happens if you must do this task a hundred times a day, on top of other activities? If a process as complex as FNOL can be tackled successfully through intelligent automation, additional automation opportunities are incredibly compelling.
How the novel technological breakthroughs that power intelligent automation have turned claims intake from impossible to automate to a success
A significant recent breakthrough lies in today's digitization technologies. Unlike traditional OCR, new text recognition technologies, like SortSpoke, differentiate themselves in their ability to learn and contextualize unstructured data. Tools like SortSpoke no longer rely on finding characters in a rigidly defined field and will go as far as finding the desired piece of data in an unstructured text paragraph. These tools are extremely useful not only at the initial input stage of the claim intake process but anywhere an understanding of unstructured information is required. This cutting-edge digitization is powered by powerful machine learning models. AI and ML can further help with contextualization and decision-making in more complex processes. Below is a representation of an intelligent automation approach to claims intake in Figure 1.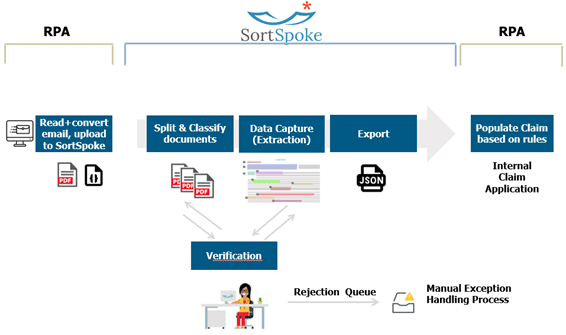 The benefits of intelligent automation
The benefits of intelligent automation are numerous. First and foremost is capacity creation. Automating a high-frequency, high complexity process like claims intake can release up to 90% of the resources that are typically involved in the process. This means that the work can be done more sustainably, and these resources can be redeployed to provide more high-value services to the clients. A related benefit is an improvement to employee experience. Automation can relieve employees from doing repetitive and attention-consuming work like manual data entry. Furthermore, automation eliminates the need for error-prone validation work that is common within the insurance industry.
These benefits scratch the surface of the possibility with IA. By automating insurance processes, processing speeds increase, resulting in an enhanced end customer experience, allowing insurance companies to be more responsive to claimants' needs. Digitization at the intake source and the inherent standardization that comes with automation make data mining and obtaining meaningful results from insurance processes much easier. Many automation tools today integrate well with leading data analytics platforms. Finally, a by-product of automation is that it increases rigour and tracking, making it easier to audit and scale the process more seamlessly.
Automation has been a buzzword in and around insurance for several years, as organizations have sought to build internal centres of excellence. While automation benefits have been gaining ground, most of the low hanging fruit has been picked. However, with new technologies emerging that can integrate artificial intelligence with automation, the dawn of intelligent automation has arrived.
To learn more about how automation can accelerate your insurance organization, contact us.
By: Andrew Wolch, Practice Leader, Insurance and Jenya Doudareva, Senior Engagement Manager, Intelligent Automation