Canadian Business unveils its 32nd annual list of Canada's Fastest-Growing Companies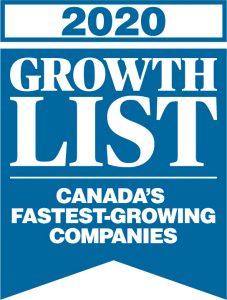 TORONTO, ONTARIO – October 15, 2020 – The Burnie Group is pleased to announce that it has ranked No. 204 out of 415 in the Canadian Business Growth List ranking of Canada's Fastest-Growing Companies. This is the fourth consecutive year that The Burnie Group has ranked, with five-year revenue growth of 364%.
"The companies on the 2020 Growth List are really exceptional," says Susan Grimbly, Growth List Editor. "Their stories are a masterclass in how to survive when the economy throws a curveball. Despite turbulence, 2020 Growth List companies showed resilience, spirit and, most importantly, empathy and strong leadership. As we celebrate over 30 years of the Canada's Fastest-Growing Companies program, it's encouraging to see that the heart of Canada's entrepreneurial community beats strong, even in tough times."
"We are honoured to be included on the Growth List four years in a row," says David Burnie, Principal and Founder of The Burnie Group. "The companies on the 2020 Growth List are Canada's best and brightest, and we are delighted to rank amongst them. Our growth is a testament to our ability to support our clients with innovative strategies that set them apart from their competitors. We want to thank our team and clients for making this possible once again."
About The Burnie Group
The Burnie Group is a Canadian management consulting firm that helps clients improve their performance through the application of innovative strategy, world-class technology, and the continuous pursuit of operations excellence. The Burnie Group specializes in Strategy, Operations, Robotic Process Automation (RPA), Omnichannel and Contact Center, and Digitization. Our industry focuses include Insurance, Financial Services, Private Equity, Telecommunications and Senior Living. Our programs deliver measurable, transparent, and guaranteed results.
About the Growth List
For over 30 years, the Growth List ranking of Canada's Fastest-Growing Companies (formerly the Growth 500) has been Canada's most respected and influential ranking of entrepreneurial achievement. Originally developed by PROFIT and now published in a special Growth List print issue of Canadian Business (packaged with the December issue of Maclean's magazine) and online at GrowthList.ca and CanadianBusiness.com, the Growth List ranks Canadian companies on five-year revenue growth, and the Startup List ranks Canadian new growth companies on two-year revenue growth. For more informa­tion on the ranking, visit GrowthList.ca.
About Canadian Business
Founded in 1928, Canadian Business is the longest-serving business publication in the country. It has fuelled the success of Canada's business elite and, through the Growth List ranking, celebrates leadership, innovation, business strategy and management tactics. Learn more at CanadianBusiness.com.