The board of a privately held telehealth solutions and service provider reached out to Burnie Group to propose an actionable growth strategy that would get the company from $25M to $100M in revenue over a 3-5 year span. With 250 employees, the company's primary focus is to provide a network of physicians to payers (insurance companies and employer groups) to ensure remote care is accessible to their covered populations.
In order to continue providing this service and expand their territory, Burnie Group focused on numerous elements, including a fact-based assessment of the current state of the company, analysis and prioritization of potential opportunities, design of the future state and an execution roadmap, to design a strategy tailored to the organization and its particular needs.
Click the image below to read more on how Burnie Group helped this client achieve their goals.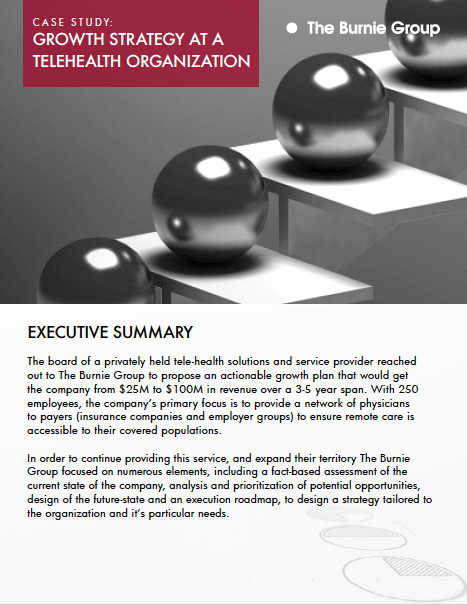 Burnie Group helps clients improve their businesses through innovative growth strategies and the continuous pursuit of operations excellence. We apply rigorous analysis, world-class technology and top-tier expertise to invigorate your business. As you look to embark on the operations journey, let Burnie Group be your guide.