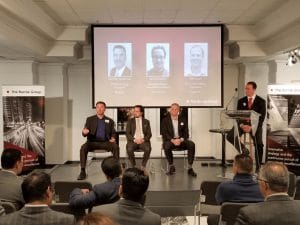 On November 20, 2017, The Burnie Group led a panel discussion on enabling Robotic Process Automation (RPA) in the workplace. Moderated by David Burnie, Principal and Founder of The Burnie Group, panellists discussed their reasons for automation as well as key learnings from RPA implementation projects. Panellists were Erik Kalin, VP & COO of Retail Operations at Empire Life Insurance Co., Michael Marchuk, Chief Technology Evangelist at BluePrism, and Dan Semmens, Managing Director of Transformation-Process Automation at ATB Financial. 
When looking for ways to boost efficiency, improve service quality, or increase customer satisfaction, many companies turn to RPA to transform their businesses.
Through automation, clerical tasks usually executed by people (for example, recording a change of address) are done more quickly and accurately by software robots. By removing mundane repetitive work, employees can be better engaged and contribute meaningfully to the company's core mission.
In this article, we've summarized some best practices step-by-step, and following that, some key learnings shared by the industry experts at our recent panel discussion.
Eight steps to transforming your business with RPA:
Like any change project, successful adoption and implementation are the results of good planning.  These steps will help ensure your company's RPA project goes smoothly:
Step 1: Identify the opportunity
Every solution begins with a problem. Ideally, the issue should tie to the strategic plan or core business function. It could be people-focussed (such as issues related to high turnover or poor customer experience) or operations-focussed (such as evolving compliance requirements or complicated processes rooted in legacy systems).
Step 2: Gather information
Engage your subject matter experts—including IT, risk, audit, and security—to develop a good high-level understanding of the processes and their related issues. You need to determine not just if automation is a viable solution but how much automation is needed for the best results. Here, RPA practitioners can build your knowledge (technological and otherwise) and provide resources to support your proof-of-concept.
Step 3: Develop the business case and win executive buy-in
After determining scope, create a business case by defining the project's objective(s). Recruit a senior level champion and socialize the plan amongst executive stakeholders. After the project is green-lighted, shortlist RPA process candidates based on stakeholder needs. Select an RPA practitioner to help manage your project.
Step 4: Build your team
Build the team needed to put the transformation in place and support it, through the processes of change, implementation, and post-implementation. Your change team should include those functions needed for a smooth transition (such as communications, HR, and ER). A post-implementation team will need to deal with unexpected issues that may affect the robots after putting RPA in place (such as a vendor-initiated upgrade).
Step 5: Capture the processes
Often companies do not have fully-documented processes, as tasks and behaviours may reside with the SME, but not on paper. Create well-documented, end-to-end understandings of full processes instead of spotlighting particular aspects. Develop thorough baselines. Find out who and how the final outputs are used. This step can be time-consuming, so be sure to budget sufficient time for your subject matter experts to thoroughly capture pre-RPA details.
Step: 6: Build and test the automated processes
From Step 5, identify tasks (or entire processes) that do not add value, and those that can be harmonized or re-engineered to be improved. Build a Centre of Excellence and an object library. Stakeholders should also identify unexpected problems and find solutions. Schedule your development and sprints and adjust accordingly.
Step 7: Implementation
Before going live, your communications resource should have developed and launched a communications plan targeting managers, staff, and other groups impacted by the RPA transformation. Ensure those who will be working with the new processes and those who are being redeployed have the appropriate training. Build in the necessary safeguards and checks to ensure all processes are being handled correctly.
Step 8: Evaluation
After the RPA is installed, objectively evaluate its performance. Conduct a gap analysis and determine if the business case's goals were met. When monitoring stakeholder satisfaction, differentiate actual from perceived problems, and address them appropriately. Compare project costs and benefits against expectations. Capture lessons learned for future RPA (and other) implementations and document findings and recommendations.
Key Learnings
"One of the things that we're starting to do now is to supplement the whole program with better support around transforming our workforce, so it's easy, whether it's measuring customer experience or measuring benefits. How do we tie those numbers back and really get true value from the investment back into the organization? Having better baseline data can really help and give you a better understanding of not just goal setting, but those true opportunities that lie across the companies."

– Dan Semmens, Managing Director of Transformation-Process Automation at ATB Financial.
"I think you have to build in a lot of time for testing. We underestimated the amount of time our subject matter experts would need to do this. We thought we could just ask them few questions—I walked down the hall and tapped them on the shoulder. Well, that ends up being a lot when the subject matter expert knows everything—especially when a lot of your procedures are undocumented and your test cases are just growing, growing, growing over time."

– Erik Kalin, VP & COO of Retail Operations at Empire Life Insurance Co.

"You look at some of these things and think, 'Do we really do this?' You'll find you actually really do and you realize that you made some optimization goals. Maybe you do something different, maybe just change and tweak the process a little bit, so you can automate some of it. But the reality is that there will be a lot more attention to the whole thing."

– Michael Marchuk, Chief Technology Evangelist at BluePrism.
Working with an experienced partner can help make your RPA business transformation a success. Choose a partner who can efficiently lead the project, keep it on track, and who will build your internal capabilities. As a pioneer in North American RPA, The Burnie Group will help you to set the right strategy and build the right foundation. Contact us to learn more about robotic process automation.
---

---