It is a proven fact that reading can help reduce stress. However, many of us don't find this to be true because we have so much "required" reading in our daily lives. But when we read for pleasure we know it's an enjoyable and stress-relieving activity.
The simple act of reading can have considerable benefits, from improving our health and well-being—even six minutes can be enough to reduce stress levels by more than two-thirds—to enlarging our capacity for empathy and strategic decision making.
Naturally, we thought we'd ask our practice leaders about some of their favorite reads. And, well, they geeked out, offering us this list of  10 recommended books. Read on …
1. The Power of One – Bryce Courtenay
Set in a world torn apart, where man enslaves his fellow man and freedom remains elusive, THE POWER OF ONE is the moving story of one young man's search for the love that binds friends, the passion that binds lovers, and the realization that it takes only one to change the world. A weak and friendless boy growing up in South Africa during World War II, Peekay turns to two older men, one black and one white, to show him how to find the courage to dream, to succeed, to triumph over a world when all seems lost, and to inspire him to summon up the most irresistible force of all: the Power of One.
2. The Innovators Dilemma – Clayton M. Christensen
Harvard professor Clayton M. Christensen says outstanding companies can do everything right and still lose their market leadership — or worse, disappear completely. And he not only proves what he says, he tells others how to avoid a similar fate. Focusing on "disruptive technology" — the Honda Super Cub, Intel's 8088 processor, or the hydraulic excavator, for example — Christensen shows why most companies miss "the next great wave." Whether in electronics or retailing, a successful company with established products will get pushed aside unless managers know when to abandon traditional business practices. Using the lessons of successes and failures from leading companies, The Innovator's Dilemma presents a set of rules for capitalizing on the phenomenon of disruptive innovation.
3.  The Tipping Point – Malcolm Gladwell
The tipping point is that magic moment when an idea, trend, or social behaviour crosses a threshold, tips, and spreads like wildfire. Just as a single sick person can start an epidemic of the flu, so too can a small but precisely targeted push cause a fashion trend, the popularity of a new product, or a drop in the crime rate. This widely acclaimed bestseller, in which Malcolm Gladwell explores and brilliantly illuminates the tipping point phenomenon, is already changing the way people throughout the world think about selling products and disseminating ideas.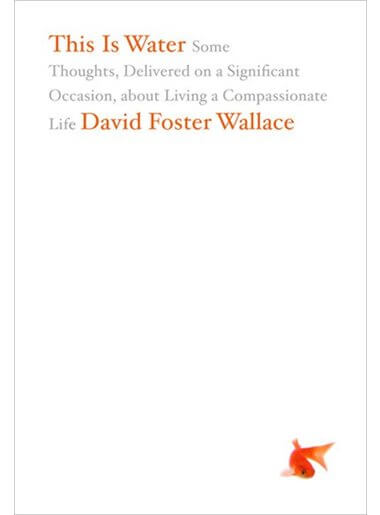 4. This is Water – David Foster Wallace
"There are these two young fish swimming along and they happen to meet an older fish swimming the other way, who nods at them and says "Morning, boys. How's the water?" And the two young fish swim on for a bit, and then eventually one of them looks over at the other and goes "What the hell is water?"
A commencement speech turned book, David Foster Wallace's This is Water explores how one keeps from going through their comfortable, prosperous adult life unconsciously? How do we get ourselves out of the foreground of our thoughts and achieve compassion? The speech captures Wallace's electric intellect as well as his grace in attention to others.
5. Outsmarting Google – Evan Bailyn
If you aren't at or near the top of Google searches, you won't be found. Your company might as well not exist. But many common Google "search optimization" techniques don't work–or even make things worse. In Outsmarting Google, world-renowned search expert Evan Bailyn reveals real, gritty, up-to-the-minute tactics that helped him attract more than 50,000,000 visitors last year without spending a dime on advertising! You won't find any unethical "black hat" tricks here: only proven techniques that reflect comprehensive testing and extraordinary insight into Google's secret rules.
6. 
Dear Leader: My Escape from North Korea – Jang Jin-sung
In this rare insider's view into contemporary North Korea, a high-ranking counter-intelligence agent describes his life as a former poet laureate to Kim Jong-il and his breathtaking escape to freedom.
With in-depth insight into the workings of everyday life in North Korea, a society that is very closed-off from the rest of the world, this book can be difficult to read but will leave you with great appreciation for life in Canada.
7. The Signal and the Noise: Why So Many Predictions Fail – But Some Don't – Nate Silver
Nate Silver examines the world of prediction, investigating how we can distinguish a true signal from a universe of noisy data. Most predictions fail, often at great cost to society, because most of us have a poor understanding of probability and uncertainty. Both experts and laypeople mistake more confident predictions for more accurate ones. But overconfidence is often the reason for failure. If our appreciation of uncertainty improves, our predictions can get better too. This is the "prediction paradox": The more humility we have about our ability to make predictions, the more successful we can be in planning for the future.
Nate Silver's book provides a foundation for analyzing and asking questions about the statistical models and predictions that surround us.
8. The Effective Executive: The Definitive Guide to Getting the Right Things Done – Peter F. Drucker
What makes an effective executive? The measure of the executive, Peter F. Drucker reminds us, is the ability to "get the right things done." This usually involves doing what other people have overlooked as well as avoiding what is unproductive. Intelligence, imagination, and knowledge may all be wasted in an executive job without the acquired habits of mind that mould them into results.
Drucker identifies five practices essential to business effectiveness that can, and must, be learned: Managing time Choosing what to contribute to the organization Knowing where and how to mobilize strength for best effect Setting the right priorities Knitting all of them together with effective decision-making.
9. Start with Why – Simon Sinek
Why are some people and organizations more innovative, more influential, and more profitable than others? Why do some command greater loyalty from customers and employees alike? Even among the successful, why are so few able to repeat their success over and over?
Simon Sinek's book is a well-argued narrative that both people and companies should rethink their approach to work or to the marketplace.  Most of us start with 'What do I want?' and end with 'How will I get there?".  Rarely do we ask 'Why?'.  Sinek challenges us to turn this around and begin with 'Why do I work?' or if a company, 'Why do we exist?'.  Only once this has been answered, should we move on to 'how' and 'what'.  Although more difficult than may first appear, understanding one's "Why" can be a powerful lever in both personal career success as well as overall business success.
10. Bossypants – Tina Fey
Tina Fey reveals all, and proves what we've all suspected: you're no one until someone calls you bossy.
From her youthful days as a vicious nerd to her tour of duty on Saturday Night Live; from her passionately halfhearted pursuit of physical beauty to her life as a mother eating things off the floor; from her one-sided college romance to her nearly fatal honeymoon—from the beginning of this paragraph to this final sentence.
---

---
Sources: