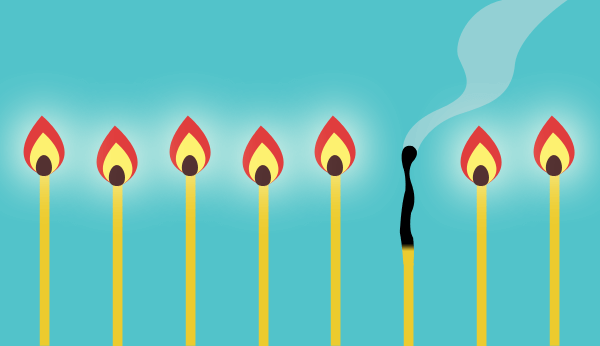 Burnout—exhaustion, lack of motivation, and feelings of ineffectiveness and frustration—is a growing concern for many Canadian companies. As workplace stress rises, the implications of disengaged, overworked, highly-stressed employees present some very real challenges for businesses.
Stats Canada recently reported that the majority of highly stressed workers (62%) identified work as the main source of their stress.  A separate 2013 survey by Kronos, found that 54 percent of employed Canadians admitted that they have called in sick to avoid going to work. And the majority of those (65%) said it was because they felt stressed or burned out.
It can be tough enough to manage your own stress. But how can you, as a manager, help the members of your team handle their feelings of stress, burnout, or disengagement? As a leader, you play a huge role in creating a work environment in which staff have the resources and support they need to be productive and effective and where they feel valued.
Although it's unlikely that the pace or intensity of work will change anytime soon, there's a growing body of research that suggests certain types of activities can effectively build personal capacity for resilience. Below we delve further into two tactics that we at The Burnie Group believe are effective in managing workplace stress before it becomes burnout.
Workforce Management
A key challenge that many of The Burnie Group's clients face is having access to in-depth daily data from which to make operating decisions. They often do not know what was accomplished, what was left behind, and how to meet SLAs on a daily, weekly, and monthly basis. Without this data, managers and staff are often overwhelmed by workloads that appear to be beyond their daily capacity, which is one of the main culprits of burnout.
Workforce management allows an organization to optimize the productivity of its employees at the individual, team, and entity-wide levels. Managers are empowered with tools that help them develop an agile workforce and meet targets in a steady and stress-free manner. From matching employee skills to specific tasks over time, to quantifying the amount and types of labour needed to accomplish particular jobs on a day-to-day, or even hour-to-hour basis, effective workforce management has been proven to dramatically reduce workplace stress while enhancing staff engagement.
Investing in Wellness
Understanding and prioritizing activities that promote well-being for yourself and your team will not only contribute towards the prevention of burnout, it will also increase productivity and team engagement. Simple activities or tools that we have found to be effective include: mindfulness and resilience training; encouraging people to take time for exercise or other renewal activities, such as walking meetings; and building buffer time between key deliverables to help work at a manageable pace. These 5 Productivity Hacks are also great ways to help keep staff motivated and engaged.
The bottom line is that both personal development and effective team management can truly help reduce burnout, all the while enabling higher productivity and greater staff engagement. Doing well at work and encouraging people to feel well isn't just possible — it's the foundation of a high-performing team.
---

---
Sources:
 http://www.statcan.gc.ca/pub/11-008-x/2011002/article/11562-eng.htm