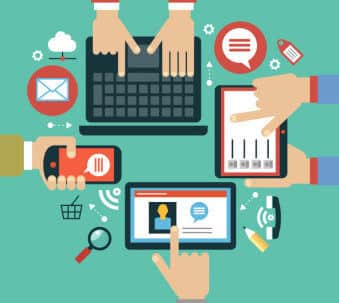 All companies want to improve employee productivity, but studies consistently show that a disturbingly high number of employees are disengaged and not working at full productive capacity. Making productivity (and the ways to increase it) part of the norms at your office will mean that each day from start to finish people will be thinking about how to perform their jobs more efficiently.
Accordingly, organizations need to prioritize the "culture of productivity". Here are our top 5 "hacks" to help make your business more productive:
1. Take Breaks
Clicking through photos of baby animals at work? That's not silly procrastination, it's an exercise in heightened focus. Short breaks have been shown in several studies to correlate with higher productivity.  In a recent study, employee computer use was tracked; the highest-performing 10 percent of employees tended to work for 52 consecutive minutes then take a 17-minute break.
While a hard-and-fast break policy won't accommodate everyone's individual habits—after all, some people work in short bursts, while others need long, uninterrupted stretches of time—it's in your organization's best interest to encourage employees to step away from their desks and take breaks.
2. Focus on creating value
Identify one negative work habit or one action that you do daily that is detracting from your productivity and eliminate it. Even better, replace that habit with something that has value.
For example, to minimize distraction and increase focus on the task at hand try:
–  Placing your phone out of site to prevent constant checking for text messages and feed notifications;
–  Closing your email application and opening it only when your task is complete; or
–  Turning off feeds from news sites and social media
3. Use efficiency-enhancing tools
Adapting efficiency-enhancing technologies will enable you and others in your organization to be more effective. A few of our favorite options include:
–  Harvest (getharvest.com): Track your time and expenses easily while you're on the go.  Take photos of receipts and submit them on the spot – no more late nights stapling receipts and filling out Expense spreadsheets
–  Try a project management tool for more effective teamwork, we like: TeamGantt (teamgantt.com) and Basecamp (basecamp.com)
–  Fitbit (www.fitbit.com), or your preferred activity tracker: Fitbit users with one or more friends are 27% more active, and companies with worksite wellness programs experience an 8% increase in employee productivity.
4. Inspire!
An engaged employee is 44%  more productive than a satisfied employee. However, an inspired employee is 125% more productive than a satisfied employee!
There isn't one single strategy that can magically inspire or motivate all employees, however, here are some general rules of thumb that'll get you started:
–  Provide individual attention and give direct praise to team members;
–  Provide a clearly articulated career path and advancement opportunities;
–  Create an inviting and comfortable work environment, and
–  Foster a culture of transparency.
5. Bananas!
Productivity is all about working steadily at a goal and maintaining a consistent focus. The food you eat directly affects the way you think, feel, and work; the right food can significantly boost your productivity –  the right foods can boost brain power by as much as 20%.
For optimal productivity, stock the office with bananas. One banana holds the amount of glucose your brain needs for a whole day; starting your day with a banana will keep your mind sharp and functioning well.
---

---
Sources:
https://www.theatlantic.com/business/archive/2014/09/science-tells-you-how-many-minutes-should-you-take-a-break-for-work-17/380369/
https://www.govloop.com/community/blog/organizational-drag-wasting-time-talent-energy-agencys-workforce/
https://www.entrepreneur.com/article/245208