EnGauge
A hands-on employee engagement program
What could you achieve with a more engaged workforce?
Many companies face the challenge of a disengaged workforce, which often times leads to lower productivity, higher turnover and a struggling company culture. Senior Managers often get their feedback and insights from annual or semi-annual surveys, where long delays in receiving results make it difficult to action feedback. The Burnie Group's EnGauge program is a best-in-class employee engagement program that improves the ease and frequency with which Team Leaders and Senior Managers receive employee feedback, understand its context, and provides tools and coaching to help them develop high-impact action plans.
Our employee engagement program "EnGauge" boosts staff satisfaction and minimizes attrition rates through a structured approach that quickly delivers results. Key elements include:
An easy-to-use survey that allows staff to provide feedback on a weekly or bi-weekly basis in just minutes.
A standardized engagement dashboard that allows Team Leaders and Senior Managers to understand each parameter of engagement within their teams.
A process to build and share action plans to respond to the feedback received, with ongoing tracking of progress to these plans and the resulting impact on engagement
A methodology to share and discuss results with staff, with support from our coaches to ensure Team Leaders and Senior Managers build a supportive environment for change
Ongoing sustainment to build an engaged workplace culture where employees
Looking to improve your company culture? We can help.
Employee Engagement Program "Engauge": Our Approach
Our hands-on modular approach rapidly delivers tangible results within weeks to Team Leaders and Senior Managers, as well as how corporate leaders can move the dial on staff engagement. This employee engagement program isn't simply about improving overall staff satisfaction — it is about instilling a company culture that allows a transparent and open line of communication between all levels of the organization. Through weekly cycles of learning, applying, and mastery, EnGauge drives new ways of working and communicating as a cohesive team—providing an actionable sounding board that gets results.
Our program provides a detailed monthly scorecard including direct staff feedback that empowers Team Leaders to stay informed and aware of things that are going well and areas that require attention.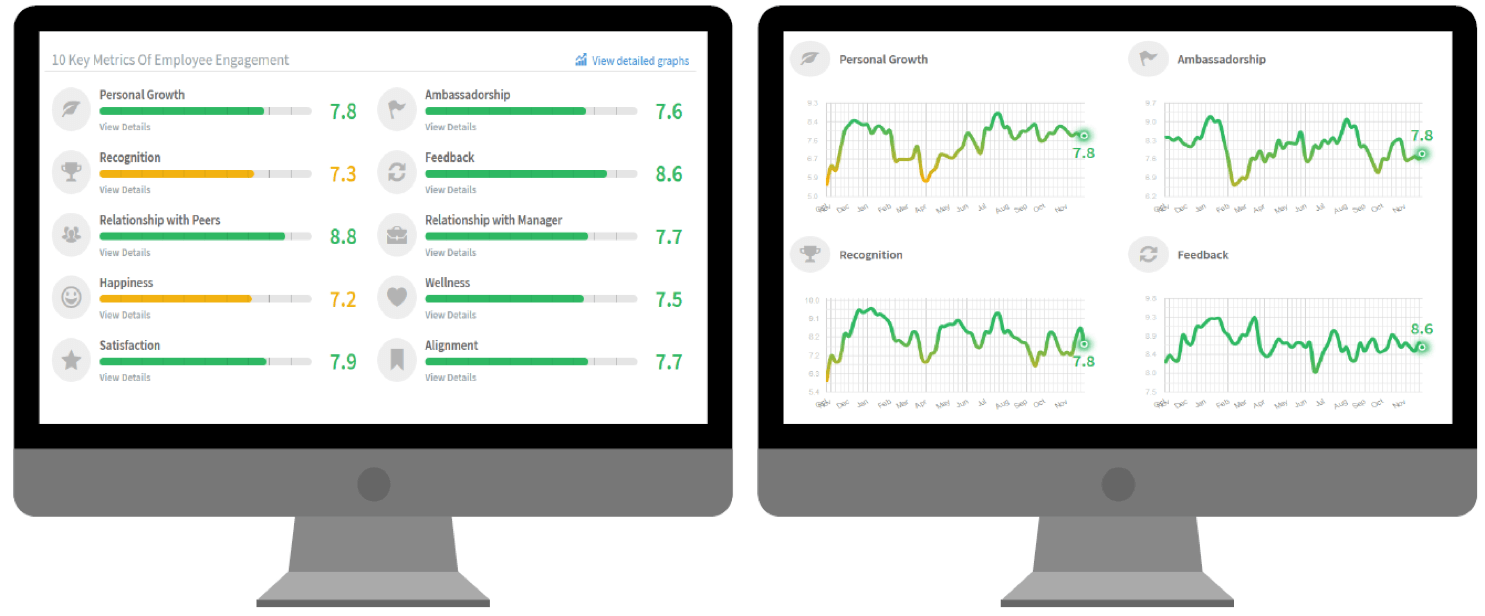 Want to boost your employee engagement? We can help.
Key components of our Employee Engagement program
Relevant Metrics
Understanding key drivers of engagement
Assessing qualitative feedback within context of quantitative data
Integrating engagement metrics within existing corporate reporting framework
Frequency
Viewing employee feedback as a KPI
Collecting engagement data at all levels of the organization
Increasing frequency & quality of feedback
Dialogue & Actions
Converting feedback into team oriented dialogue
Developing feedback-centred action plans
Improving overall team performance
Looking for top-tier consultants who understand employee engagement? We can help.