Here at The Burnie Group, even in our downtime, we like to be on top of the ideas and innovations that are dramatically changing the businesses we work with, our country, and the world we live in. With that in mind, we've prepared this list of our favorite innovation podcasts and books.
If you're getting into that 'back-to-school' study groove like we are, our innovation list will get sparks flying so you're ready to hit the ground running this September.
The Listen List – Podcasts we love and why 
1. NPRs Hidden Brain
2. NPRs How I Built This
3. Interchange Podcast
4. Economist Radio's Babbage – Science and Technology
5. HBR Ideacast
1. NPRs Hidden Brain

Shankar Vedantam uses science and storytelling to reveal the unconscious patterns that drive human behaviour, shape our choices and direct our relationships in Hidden Brain.
Why we like it:
The stories are fascinating, engaging, and well told. There are not only great lessons to be learned but also a way of looking at the world. This type of in-depth analysis gives us ideas about how to better engage the crowd, inspire creativity, and drive innovative thinking.
Recommended episodes:
2. NPRs How I built this

Guy Raz dives into the stories behind some of the world's best-known companies. How I Built This weaves a narrative journey about innovators, entrepreneurs and idealists—and the movements they built.
Why we like it:
You really get a sense of how many different ways there are for an idea to grow. Some success is due to collaboration, some due to someone's singular vision, some due to dogged persistence and sometimes it's pure luck. It is great to hear stories told by inspiring entrepreneurs.
Recommended episodes:
3. Interchange Podcast – GTM Green Technology Media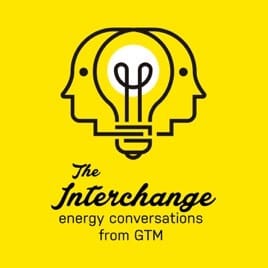 The Interchange is a weekly podcast on the global energy transformation, hosted by Stephen Lacey and Shayle Kann. Each week, the duo provides deep insights into technology, markets, projects, company financials, mergers and acquisitions, policy changes, and market data.
Why we like it:
Transactive energy is a great passion of ours. Interchange looks at the colliding forces of energy, climate change, business, technology, policy and consumer behaviour. Every week this podcast looks at another dimension of the evolution of this essential industry that touches all of us.  The interviews are well structured and very engaging.
Recommended Episodes:
4. Economist Radio's Babbage – Science and Technology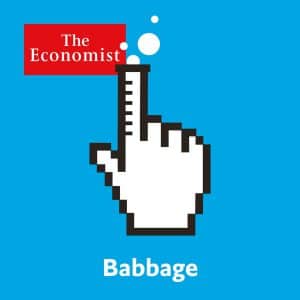 Babbage is the Economist's weekly podcast on science and technology. It examines the innovations, discoveries and gadgetry making the news. New episodes are posted every Wednesday.
Why we like it:
It is very topical and currently relevant look at technologies impact on business people and society. It brings with it the high quality of Economist journalism and often features some very engaging interviews with newsmakers.
Recommended Episodes:
5. HBR Ideacast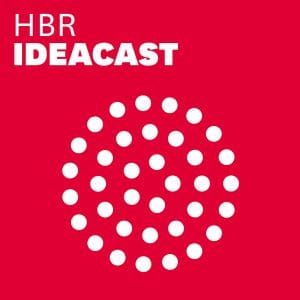 This podcast highlights some of the best articles from the Harvard Business Review. Top leaders in business management, discuss the future of work and what innovation means from an individual and team perspective.
Why we like it:
The stories are well-conceived and very interesting.  You almost always finish an episode with one or two ideas that bounce around in your head for a number of days until you figure out how you might approach something in your own life a little differently.
Recommended Episodes:
---
The Must-Read List – Books we love and why
1. Prediction Machines: The Simple Economics of Artificial Intelligence
2. Thank You for Being Late: An Optimist's Guide to Thriving in the Age of Accelerations
3. The Innovator's Dilemma
4. The Innovator's DNA: Mastering the Five Skills of Disruptive Innovators
1. Prediction Machines: The Simple Economics of Artificial Intelligence
Author: Ajay Agrawal,  Joshua Gans, Avi Goldfarb

What is it?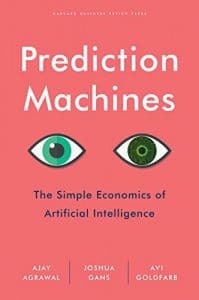 From the publisher: Artificial intelligence does the seemingly impossible, magically bringing machines to life–driving cars, trading stocks, and teaching children. But facing the sea change that AI will bring can be paralyzing. How should companies set strategies, governments design policies, and people plan their lives for a world so different from what we know? In the face of such uncertainty, many analysts either cower in fear or predict an impossibly sunny future.
But in Prediction Machines, three eminent economists recast the rise of AI as a drop in the cost of prediction. With this single, masterful stroke, they lift the curtain on the AI-is-magic hype and show how basic tools from economics provide clarity about the AI revolution and a basis for action by CEOs, managers, policymakers, investors, and entrepreneurs.
When AI is framed as a cheap prediction, its extraordinary potential becomes clear:
Prediction is at the heart of making decisions under uncertainty. Our businesses and personal lives are riddled with such decisions. Prediction tools increase productivity–operating machines, handling documents, communicating with customers. Uncertainty constrains strategy. Better prediction creates opportunities for new business structures and strategies to compete. Penetrating, fun, and always insightful and practical, Prediction Machines follows its inescapable logic to explain how to navigate the changes on the horizon. The impact of AI will be profound, but the economic framework for understanding it is surprisingly simple.
Why we like it: 
Like many books, there are only a few big ideas, but those ideas are slotted into an accessible intellectual framework and brought to life with some fascinating stories.
2. Thank You for Being Late: An Optimist's Guide to Thriving in the Age of Accelerations
Author: Thomas L Friedman
What is it?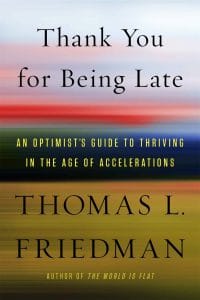 From the publisher: In his most ambitious work to date, Thomas L. Friedman shows that we have entered an age of dizzying acceleration–and explains how to live in it. Due to an exponential increase in computing power, climbers atop Mount Everest enjoy excellent cell-phone service and self-driving cars are taking to the roads. A parallel explosion of economic interdependency has created new riches as well as spiralling debt burdens. Meanwhile, Mother Nature is also seeing dramatic changes as carbon levels rise and species go extinct, with compounding results.
How do these changes interact, and how can we cope with them? To get a better purchase on the present, Friedman returns to his Minnesota childhood and sketches a world where politics worked and joining the middle class was an achievable goal. Today, by contrast, it is easier than ever to be a maker (try 3-D printing) or a breaker (the Islamic State excels at using Twitter), but harder than ever to be a leader or merely "average." Friedman concludes that nations and individuals must learn to be fast (innovative and quick to adapt), fair (prepared to help the casualties of change), and slow (adept at shutting out the noise and accessing their deepest values). With vision, authority, and wit, Thank You for Being Late establishes a blueprint for how to think about our times.
Why we like it:
It is by Tomas Friedman. Pretty much everything he writes is well researched, thought-provoking and highly relevant. In this book he looks at many of the major forces that are shaping the world we will be living in, and not only presents us with difficult challenges, but also with some pragmatic solutions.
3. The Innovator's Dilemma
Author: Clayton M. Christensen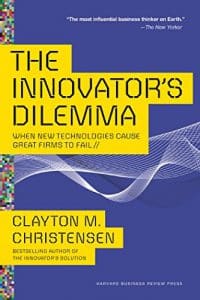 What is it?
From the publisher: The bestselling classic on disruptive innovation, by renowned author Clayton M. Christensen.
His work is cited by the world's best-known thought leaders, from Steve Jobs to Malcolm Gladwell. In this classic bestseller—one of the most influential business books of all time—innovation expert Clayton Christensen shows how even the most outstanding companies can do everything right—yet still lose market leadership.
Christensen explains why most companies miss out on new waves of innovation. No matter the industry, he says, a successful company with established products will get pushed aside unless managers know how and when to abandon traditional business practices.
Offering both successes and failures from leading companies as a guide, The Innovator's Dilemma gives you a set of rules for capitalizing on the phenomenon of disruptive innovation.
Sharp, cogent, and provocative—and consistently noted as one of the most valuable business ideas of all time—The Innovator's Dilemma is the book no manager, leader, or entrepreneur should be without.
Why we like it:
It's a classic. One of the most profound and useful business books ever written about innovation. It examines the difference between sustainable & disruptive innovation. The phenomenon of the blind side attacker leveraging disruptive innovation to redefine a marketplace is both fascinating and very important. As the authoritative source of much of the innovation worlds buzzwords, this is worth a read or re-read.
4.  The Innovator's DNA: Mastering the Five Skills of Disruptive Innovators
Authors: Jeffrey H. Dyer, Hal B. Gregersen, Clayton M. Christensen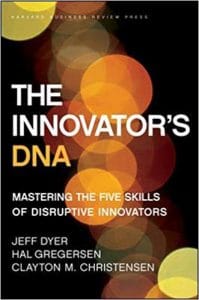 What is it?
From the publisher: You can be as innovative and impactful — if you can change your behaviours to improve your creative impact. In The Innovator's DNA, authors Jeff Dyer, Hal Gregersen, and bestselling author Clayton M. Christensen (The Innovator's Dilemma, The Innovator's Solution) build on what we know about disruptive innovation to show how individuals can develop the skills necessary to move progressively from idea to impact. By identifying behaviours of the world's best innovators — from leaders at Amazon and Apple to those at Google, Skype, and Virgin Group — the authors outline five discovery skills that distinguish innovative entrepreneurs and executives from ordinary managers: Associating, Questioning, Observing, Networking, and Experimenting. Once you master these competencies, the authors explain how you can generate ideas, collaborate with colleagues to implement them, and build innovation skills throughout your organization to sharpen its competitive edge. That innovation advantage can translate into a premium in your company's stock price — an innovation premium — that is possible only by building the code for innovation right into your organization's people, processes, and guiding philosophies. Practical and provocative, The Innovator's DNA is an essential resource for individuals and teams who want to strengthen their innovative prowess.
Why we like it:
In this follow on to "The Innovators Dilemma" and the "Innovators Solution", the authors explain the skills required to move progressively from idea to impact. An easy read with great storytelling making great points very concisely and providing some practical guidance on how to integrate innovation into your way of looking at the world.