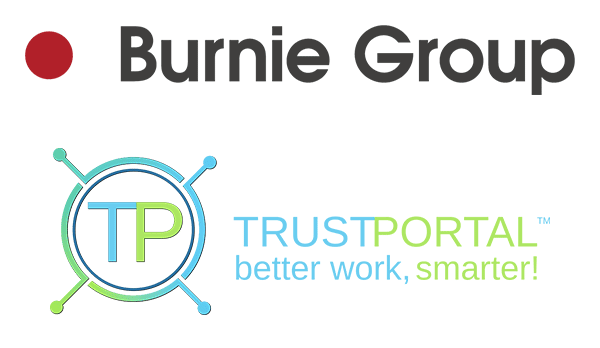 TORONTO, ONTARIO – January 10, 2023 (GLOBE NEWSWIRE) – Burnie Group is partnering with TrustPortal to provide expanded hyperautomation capabilities for our clients. Partnering with TrustPortal will enable Burnie Group to diversify its capabilities by increasing the ease, speed, scope and scale of digitization and automation across front-line, back-office, and multi-channel contact center operations. Together, Burnie Group and TrustPortal will provide frictionless, personalized, valuable digital services and experiences to employees and customers of North American financial services and telecommunications organizations.
TrustPortal's patented hyperautomation platform enables intelligent real-time orchestration of employees, multiple software robots, digital technologies, and artificial intelligence (AI) to work together as a hyper-productive, augmented digital workforce at scale. With TrustPortal, each step within any end-to-end work process of any complexity and business function is performed by the most appropriate combination of multi-vendor robots and human workers: augmented by tools such as digital and AI – all within seconds. These capabilties are delivered to employees and customers via TrustPortal's robot-guided, real-time dialogues and interactions, across the most convenient channel.
Burnie Group is an expert in using automation to drive efficiency, enable growth, and optimize spending across complex client operations and contact centers by transforming how clients work. It is a leader in building automation centers of excellence and implementing intelligent automation solutions for clients in industries including telecommunications, banking, and insurance.
"We are proud and excited to partner with TrustPortal," says Najeeb Saour, Head of Technology and Automation at Burnie Group. "TrustPortal provides a smarter, critical capability to empower our clients to leverage automation on demand, at speed and scale. It excels at delivering high-speed, high-volume, end-to-end digital processes and services across organizations' operations and seamlessly works with old, new and complex IT systems. We look forward to showcasing hyperautomation's transformative potential."
"TrustPortal and Burnie Group will deliver what all organizations are struggling to provide: hugely enhanced digital service interactions and experiences that satisfy the demands of both employees and customers," says Chris Lamberton, CEO at TrustPortal. "Crucially, we're consistently proving and enhancing our capabilities in mission-critical contact center operations. Results include over 50% cost savings, 65% faster service completion times, +5 customer services index scores, reduced agent training times, effort, and attrition. Add hugely accelerated go-to-market times and ROI into the mix, and it's a triple win for employees, customers, and organizations."
About Burnie Group
Burnie Group is an award-winning management consulting firm that helps clients improve their performance by applying innovative strategy, process excellence, and world-class technology. Burnie Group specializes in Technology and Automation, Strategy, and Operations. Its programs deliver measurable, transparent, and guaranteed results.
Media Contact:
Courtney Heffernan
Senior Marketing Manager
courtney.heffernan@burniegroup.com
416-306-8349
About TrustPortal
TrustPortal Solutions Ltd is a worldwide hyperautomation 2.0 pioneer, enabling an augmented digital workforce of robots, AI, digital and people to co-work hyper-productively in real-time and enhance the operations of any enterprise. Delivered as a SaaS or on premises, TrustPortal digitizes, automates and fundamentally improves any end-to-end process, from the front-office to the back-office and beyond: with unmatched ease, speed, scale and security.  ROI is achievable in months, not years: and at 10% of the cost of traditional digitization and automation approaches. Global companies such as Telefonica, EDF, IBM, MetLife, A1 Telecom, entrust TrustPortal to transform their operations.
Media Contact:
Nick Hall
Chief Marketing Officer
nick.hall@trustportal.org