This post is based on a panel discussion held on June 4, 2018. The 90-minute session focused on panellists' experiences shaping culture and fostering engagement in their companies. Moderated by Darshan Jain, Head Technology and Operations of The Burnie Group, Norman Bacal, author and former managing partner, Heenan Blaikie LLP delivered the keynote and the panellists were Richard Anton, Senior Vice President and Chief Operations Officer at CIBC Mellon, Cathie Brow, Senior Vice President, Human Resources and Communications, Revera, Christina McClung, Vice President, Human Resources and Chief of Staff, Capital One, and Rob Lokinger, President and Chief Operating Officer, AppCentrica Inc.
Many companies hire the best and the brightest to seize new opportunities and increase profits. Unfortunately, impressive résumés don't always translate to an engaged employee base or a stimulating and innovative workplace culture. Individual contributors who once brimmed with enthusiasm and new ideas now only raise their heads to check the time. Regardless of systems put in place or reorganizations, teams struggle to get ahead.
Culture and engagement can be forgotten or an afterthought when setting and executing corporate strategies. Leaders should consider the mindsets and behaviours needed to support their company's vision and goals.
How does culture fit within your corporate strategy?
You need to define the workplace culture required for teams to meet targets and create new opportunities. Whether team-centric, focused on high potentials, honed on improving shareholder value, (etc.), a culture strategy needs to be determined as well as its supporting tactics.
"You need to decide what your cultural imperative is, as part of your corporate strategy," says Norman Bacal. "Once you understand what it is, it ought to put you in the direction of your tactics, day-to-day behaviours, and ultimately whom you recruit to your vision."
Bacal offers three pieces of advice for leaders looking to set, change or improve corporate culture:
1. Be consistent
Policies, programs, and behaviours must align with culture vision and not vary across your organization regardless of geography or environment. Employee trust grows when words and actions align. If you, your peers, or other leaders say one thing and do another, you risk damaging your and the company's credibility.
"Never confuse strategy with tactics. If you take those tactics and separate them from your cultural vision, they won't work. In fact, they do the opposite of what you want and can build a level of cynicism, because you need to be consistent between your vision and execution."
2. Recognize the importance of your front-line staff on a regular basis
It's easy to focus attention on only senior management or those with "star" quality. In fact, it's the public's or client's first point of contact—receptionists, service agents, or call centre employees—who can be the linchpin to your organization's success. They are often your company's face and voice and some of your most valuable employees. Telling them you recognize this signals you understand their role and you appreciate what they do.
"I'd arrive in the morning and say to the receptionist, 'You're the most important person in this firm.' If you say that once to somebody, they won't believe you; if you say that to them on a regular basis, they begin to believe it."
3. Walk the halls
It's unlikely your staff will proactively tell you what's happening or their collective mood. The best way to know these is to step outside your office and talk to employees. Have informal chats—saying "hello" and finding out how they're doing or how their family is will help build goodwill and trust. Ask your leaders to do the same.
"It's the small things you may consider completely insignificant to your life that have a huge impact on other people's lives."
Engaging your employees while building corporate culture
We know a strong corporate culture can be a competitive advantage when attracting employees or securing clients. When a company decides to define or redefine their culture, change doesn't occur overnight: it takes time to learn and develop traits and behaviours. While organizations can launch campaigns focused on ethics, teamwork, or client-centric service, successful shifts often happen when leaders commit to and model desired behaviours and attitudes.
Who are engaged employees?
Engaged employees go above and beyond so the company realizes its corporate vision and strategies. Working isn't "just a job" or a paycheque. They are front and centre when needed most. As individuals, they proactively update their skillset to be part of the organization's future. They are active problem solvers and offer ideas to help shape the company.
"I really think engagement has to do with people's passion and enthusiasm. We have a really great vision for our company that touches everybody. Employees need to feel connected—if they aren't, they're not going to be able to deliver the service we expect from them."

~ Cathie Brow, Senior Vice President, Human Resources and Communications, Revera
How do you build employee engagement?
Smart strategies and tactics build, maintain, and grow engagement over time. They are rolled out at the corporate level and supported by leaders.
Corporate tactics
Your corporate values should be defined, so everyone understands what they are and how to bring them life. You need to ensure all levels, especially C-suite and other senior leaders, walk the talk. Otherwise, employees will see the disconnection and may assume a double standard.
Find different ways to involve employees in corporate programs. Corporate Social Responsibility projects (such as Habitat for Humanity builds, sorting food bank donations, or registering teams for a charity bike ride) or internal problem-solving competitions for specific issues (ranging from hackathons to projects resolving client pain points) are more than team-building exercises: They reinforce company values and allow staff to participate in corporate projects in fun, meaningful, and non-financial ways.
Take the time to listen to your employees and don't immediately jump to prescribing remedies. Instead, ask your employees for their ideas and implement solutions that need little lead-time (before putting into place more complex ideas). This way, you signal you hear your staff. Similarly, staff input when setting up a formal recognition program is important—don't assume a gala or dinner with the CEO would appeal to the majority.
"Alignment around the right goals and cultural imperators yields great benefits. It carries through when people interact with each other and with customers. We founded our company on four principles that really defined our culture. They're used to make our hiring decisions, evaluate people and make sure we have the right approach within our organization."

~ Rob Lokinger, President and Chief Operating Officer, AppCentrica Inc.
Individual leaders' tactics
Your behaviour, attitude, and presence go a long way in shaping corporate culture. Sit with your team to get a feel for their day-to-day environment and issues. Be seen. Have informal chats with specialists and coordinators as well as more senior staff at their desks or in the cafeteria. Encourage peers and people leaders under you to do the same.
Trust in leadership is essential. Employees want to see the genuine you. Façades won't gain their trust and may make you harder to follow. Your actions need to be consistent, and you must deliver on your commitments.
Celebrate team wins, but also find ways that are personal to you to congratulate or acknowledge staff accomplishments. Equally crucial is being there and supporting your staff in challenging times.
"My role is about fostering the kind of culture and principles we want. It's about how I handle myself every single day, and also how I expect my management team to handle themselves. I am a firm believer that if I display those characteristics, those traits across the organization, that's when people start to buy into that idea that it's not more than a one-off that's quickly forgotten."

~ Richard Anton, Senior Vice President and Chief Operations Officer at CIBC Mellon
How do you measure culture?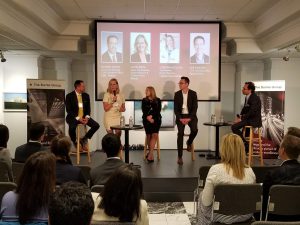 Annual and biannual employee satisfaction and sentiment surveys may not be helpful because they are lagging indicators. Instead, get timely feedback by measuring employee experience after critical points in their tenure: onboarding, first three months, performance reviews (etc.). Ask questions about diversity and inclusion, and track indicators such as employee referrals and attrition rates.
"It's hard to measure feelings, but we try. I think there's a lot to be said about the anecdotal feedback—look at what you might measure. I think some measurements that can be found along with the survey scores. Make sure you deep dive into topics where people are feeling engaged and the various contributors, such as enablement to getting work done."

~ Christina McClung, Vice President, Human Resources and Chief of Staff, Capital One
Working with an experienced partner can help build and improve your employee engagement. Choose a partner who can efficiently lead the project, keep it on track, and who will develop your internal capabilities. The Burnie Group will help you to set the right strategy and build the right foundation. Contact us to learn more about employee engagement.
---

---