A leading national insurance company reached out to Burnie Group to deliver and implement front-line staff leadership training, and ultimately provide full-time employee cost savings. While being highly proficient at the production work of the role, front-line leaders were "siloed" in their own teams, lacked work volume forecasting methodology and reporting, and some team and departmental coordination methods.
Burnie Group's Operations Excellence program was implemented through weekly modules that include capacity and resource planning, performance dashboards, team huddles and coaching and feedback training.
The program leverages technology to map end-to-end processes and automatically capture the day-to-day activities of client team members. Through advanced analytics we painted a clear picture of individual, team and corporate performance, allowing for an increase in productivity while enhancing employee engagement and the customer experience.
Click the image below to read more on how Burnie Group helped this client achieve their goals.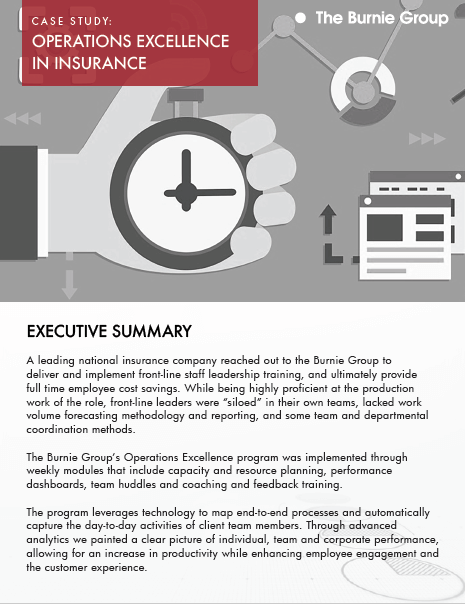 Burnie Group helps clients improve their businesses through innovative strategy and the continuous pursuit of operations excellence. We apply rigorous analysis, world-class technology and top-tier expertise to invigorate your business. As you look to embark on the RPA journey, let Burnie Group be your guide.