With blockchain grabbing headlines, people want to learn about this transformative technology. While a good first step is reading our primer, The Blockchain Disruption: Insight report on Blockchain, the following titles are a great place to start or deepen your understanding of this disruptive technology. Read on …
1. Blockchain Revolution – Don Tapscott & Alex Tapscott
Wikinomics author Don Tapscott and his son, Alex, explain blockchain, its applications, and provide a broad overview of changes that could be brought about. For those getting started in the space, Blockchain Revolution describes the technology as a simple but transformative protocol that enables financial transactions to be anonymous and secure through the decentralized ledger—a public, tamper-proof virtual ledger of value.
2. Blockchain: Blueprint for a New Economy – Melanie Swan
Melanie Swan is a technology theorist at Purdue University's Philosophy Department and founder of The Institute for Blockchain Studies. She focuses on detailing the implications of decentralized ledger technology in an academic style. This book is a good next read after Tapscott and Tapscott's Blockchain Revolution (above) and takes you beyond currency and smart contracts to explore blockchain as a new form of information technology and the possibility of how it can expand how we think in financial markets.
3.  Mastering Bitcoin Programming the Open Blockchain – Andreas M. Antonopoulos
This guide is recommended for those looking for a deeper understanding of Bitcoin's technical operation. Mastering Bitcoin describes its and other cryptocurrencies' technical foundations, from cryptography basics (such as keys and addresses) to data structures, network protocols and the consensus mechanism mining that underpin Bitcoin. Each technical topic is explained with user stories, analogies and examples, and code snippets illustrating the key concepts.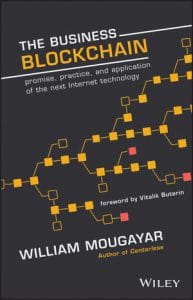 4. The Business Blockchain: Promise, Practice, and Application of the Next Internet Technology – William Mougayar
William Mougayar is an angel investor who has been investigating cryptocurrency and broader distributed ledger ecosystem. His book explores how enterprises and organizations should look at distributed ledgers and specifically, blockchain.
5. Business Innovation Through Blockchain – Vincenzo Morabito
This book explores the main challenges and trends related to the use of blockchain technology for digital business innovation and provides stimulating insights and ideas. It explores topics in three broad sections: 1) Blockchain technology and management  (including impacts on value chains and systems, governance, and security issues) 2) The Bitcoin phenomenon and main technological trends in the use of blockchain, and 3) Examples of business innovation using blockchain that is drawn from across the globe.
---

---
By: Madison Wright, Senior Business Analyst